Shipping Policy
At Del Rio Vineyard Estate, we are just as devoted to superior customer service as we are to producing quality wines. Whether you're shopping with us online, by phone or at our tasting room, you can count on our helpful team to answer any questions you might have along the way.
We love that we can connect and provide wine through delivery. Our main shipping provider is UPS. Orders placed by 12 p.m. PT on Monday through Thursday will ship the same day. Orders placed after 12 p.m. will ship the next applicable shipping day.
During special promotions, please allow up to 3 business days for your order to be charged and processed, plus the estimated shipping timeframe for the shipping option you have selected. A total of three delivery attempts will be made before the shipment is returned to our facility. If the order is returned as undeliverable, a $20 return fee will be applied along with the shipping charge to reship your order. If you have any questions about your order or its delivery status, please email or give us a call at (541) 855- 2062.
Adult Signature Required
Alcohol deliveries must be signed for by an adult 21 or older. Verification of age is required at the time of delivery. We recommend use of a business address to facilitate delivery of your purchase. We cannot ship to P.O. Boxes, as signatures are required. Wine will not be delivered to a visibly intoxicated person. Failure to produce age verification forfeits the right to receive the shipment until identification is produced. In such circumstances, the order may be held in storage at a local depot of the shipping company until appropriate identification is produced, or it may be shipped back to the winery. All associated costs will be at the responsibility of the receiver and charged to you, the customer.
Weather
To protect your wine purchase, we may need to delay shipment to avoid extreme weather conditions (hot or cold). We will notify you if we are concerned about weather conditions.
Wine is a perishable commodity. Wine does not like extremes of temperature: hot humid summer and cold winter weather may adversely affect the condition of your wine during shipment. Del Rio Vineyards offers, in addition to ground rates, expedited Next Day Air and 2nd Day Air Delivery Services via UPS as an option for safe delivery.
Return Policy
Please contact us regarding any of our products you deem damaged, flawed, or otherwise unsatisfactory. We will work with you directly to find a satisfactory solution as allowed by law. We may request that you return the unfinished portion of the original bottle along with any shipping materials. Any effort by us to refund, replace, or remediate any issues with one of our products is in no way an admission of guilt or wrongdoing. Please contact us at (541) 855-2062 or email Sarah Mellema at sarah@delriovineyards.com
Where we ship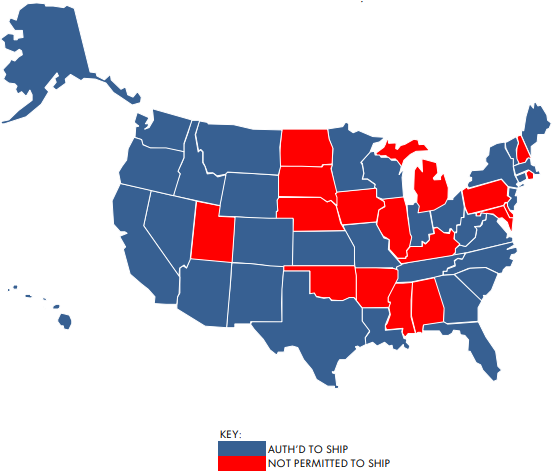 Due to state regulations, please note we cannot legally ship wine to the following states: Alabama (AL), Arkansas (AR), Delaware (DE), Iowa (IA), Illinois (IL), Kentucky (KY), Maryland (MD), Michigan (MI), Mississippi (MS), Nebraska (NE), New Hampshire (NH), Oklahoma (OK), Pennsylvania (PA), Rhode Island (RI), South Dakota (SD), & Utah (UT).