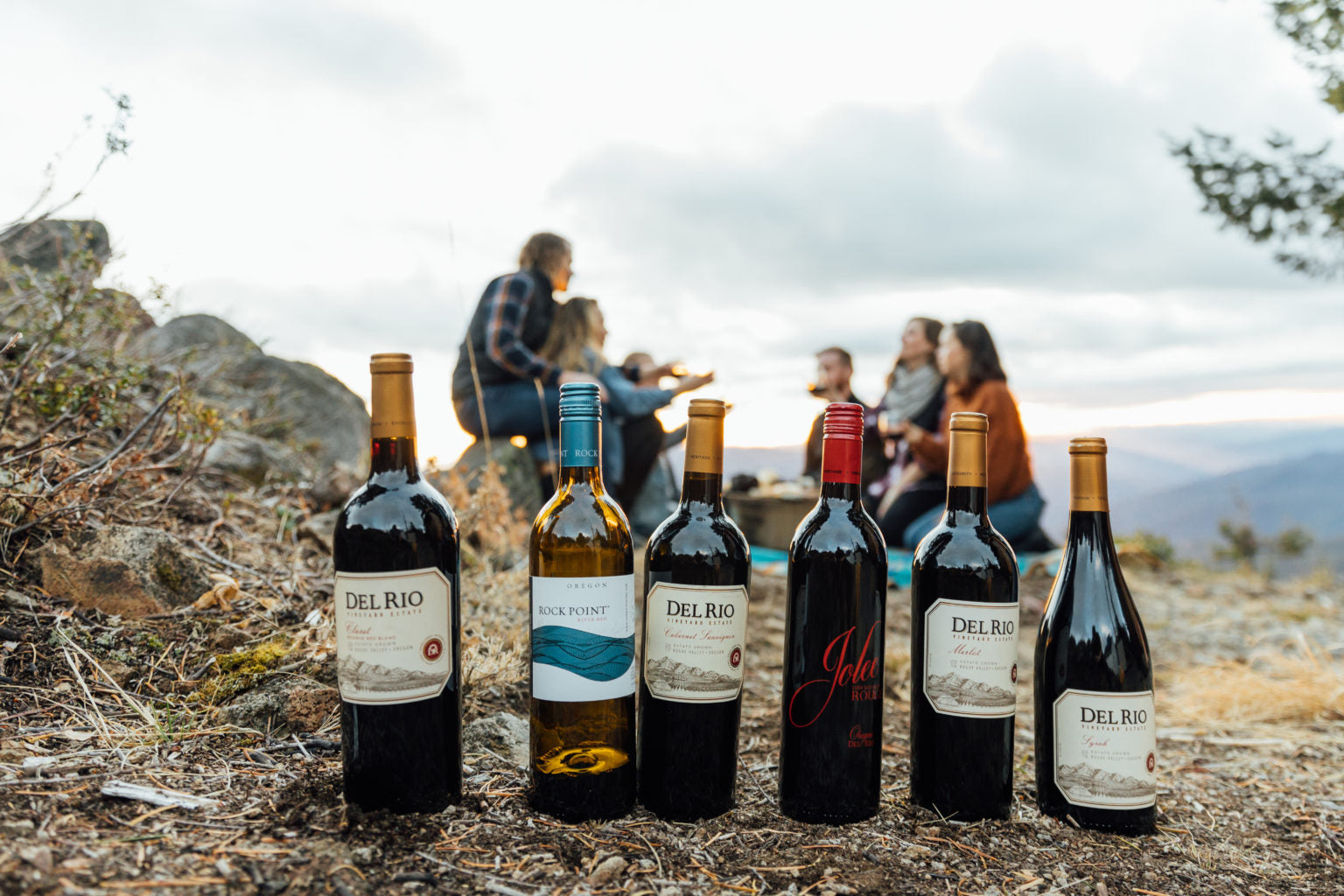 5 Surprising Facts about Del Rio Vineyard Estate
Lindsey Zagar | Mon, Nov 16, 20
5 SURPRISING FACTS ABOUT DEL RIO VINEYARD ESTATE – BY MARYBETH LEAVENS
Del Rio Vineyard Estate has been a mainstay in the Southern Oregon wine industry for over 20 years. Family owned and operated, the estate has grown each year under the nurturing hands of fourth-generation farmers and winemakers. While known for their classically Oregonian Pinot Noirs, their "old world meets new world" winemaking style, and beautiful riverfront property, there is more to this Rogue Valley staple than meets the eye.
1.The owners were once tomato farmers
High school sweethearts Rob and Jolee Wallace took a chance on Oregon wine and moved from a small farming town in Northern California to the Rogue Valley. Rob is the youngest of eleven children and a fourth-generation farmer who grew up growing wheat, rice, tomatoes, and vegetables with his family. The couple was busy operating their own high production tomato farm when they were presented with the opportunity to run Del Rio Vineyards. So, in 2000, the Wallaces traded in tomatoes for grapes and made the move from Arbuckle, CA to Gold Hill, OR with their three young children. Over 20 years, hundreds of vineyard acres, and countless barrels of wine later, it's safe to say the Wallaces have fallen in love with the Rogue Valley wine industry.
2. Del Rio produces wine under three labels
Del Rio Vineyard Estate, Jolee, and Rock Point are the three labels born out of 500-acres of vines, all with their own story and personality. The Del Rio Vineyard Estate bottles are reserved for the highest quality estate fruit. Aged with care and dedication, these premium wines are the finest examples of Oregon wine made today. Jolee wines capture the essence of summer with two fruit-driven compositions, Rose and Rouge. Lush and rich, the Jolee wines are easy-drinking, crowd-pleasing wines, perfect for entertaining. Like the wild and scenic Rogue River, Rock Point wines were created for adventure. These wines are designed to be shared after a hike to the summit, a sunset paddle, or dining alfresco. There's truly a Del Rio wine for every occasion.
3. The tasting room is haunted
Local lore has it that the historic building that houses the Del Rio tasting room is haunted by Hattie Beach. Built in 1864, the tasting room building was once the Rock Point Stage Hotel, serving as the local stagecoach stop and shelter for passersby. Hattie, the wife of the stagecoach stop's blacksmith, was shot in the back over a dispute with the railroad company planning to build a railroad through the property. Hattie is buried down the street from the winery at the Rock Point Cemetary, only feet away from the railroad she never wanted. To add insult to injury, Hattie's husband eventually remarried, and his second wife is buried next to her. She has be
en seen sitting on the tasting room stairs and running through the vineyard and causes mysterious sounds and flickering lights throughout the tasting room. 
4. They grow more grapes than you'd think
In addition to their three wine labels, Del Rio is a key supplier for fine winemakers across the west coast. The unique climate and terrain of the Del Rio estate is able to support an extensive collection of wine grape varieties. Grapes grown at the estate include:
Sangiovese

Merlot

Grenache

Pinot Noir

Malbec

Riesling

Muscat

Cabernet Sauvignon

Syrah

Cabernet Franc

Pinot Gris

Chardonnay

Viognier
Whether you've tasted Del Rio fruit from one of their bottles or from one of their loyal partners, each sip has a layer of complexity that tells the story of their vineyard site.
5. Del Rio grows flowers, too!
In 2016, Jolee Wallace had a colorful idea. She wanted to plant rows and rows of zinnias on the property for tasting room visitors to pick for free. There's just one catch: for every bouquet you pick for yourself, you have to pick one for someone who needs it. Thus, the "flower it forward" zinnia farm was born. Whether it's for a friend, family member or stranger, the flower it forward farm is meant to encourage people to share some sunshine. Every July, rows of colorful zinnias bloom along the front of the Del Rio estate, adding even more beauty to the 300 acres of vines behind them.