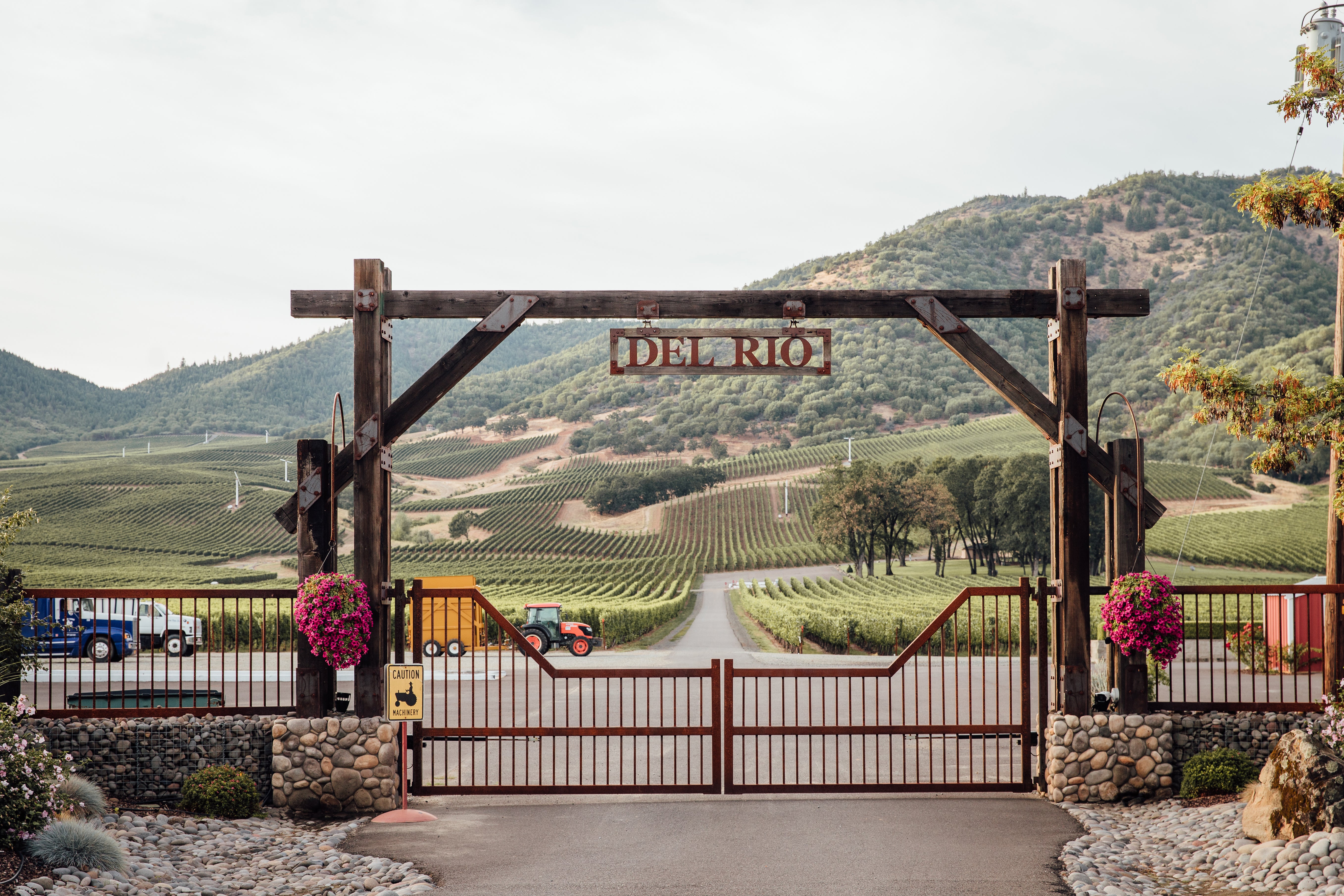 A Look at the Bright Side
Lindsey Zagar | Mon, Nov 16, 20
Our tasting room doors have been closed for over ten weeks, however, life at Del Rio Vineyards has been busy and we have so much to share. Instead of covering the struggles that COVID-19 has caused, we are taking at look at the bright side and will share the wonderful things that have happened.
First off, we took the opportunity to spruce up the tasting room! We added a fresh coat of paint on the inside and out. We have a brand-new fence encircling the grounds. All our cyclist visitors will be excited to hear that we have a new bike rack.  We also planted new flowers and have some bright hanging baskets that will greet you as you walk in. Our new operating procedures inside the tasting room are temporary and once we begin tastings, we will have new tasting flight boards we are excited to share. We also have a new member on our team, a full-time sanitation specialist, Reyna. She is a ray of sunshine and fits right into our Del Rio family. Finally, still a work in progress, but coming soon is a new welcome sign at the front of the tasting room.
Speaking of signs, our new Del Rio Vineyard Estate sign is up. The sign is located near our Zinnia garden and matches our vineyard entry gate. The Zinnia seeds have also been planted and the fields are beginning to turn green. Picking Zinnias is one of our favorite things come August.
In the vineyard, the vines are growing rapidly. We had a few early, early mornings of frost protection this spring, but as the weather has warmed the vines are clearly loving it. We have a large crew working on shoot thinning. The vineyard is naturally set up in rows that are six feet apart, which has helped us stick to the guidelines of social distancing. It is amazing to watch the vines grow so quickly. Drive by today and you will see a full hillside.
We have new visitors on the west side of the vineyard . . . quite a large family of cows! The cows are visiting from Eagle Point and are helping us, by trimming down the grass and brush on the hillside. This has been our second season of cow visitors and they help a lot with fire prevention.
Now, the winery has been in full swing of bottling season! So, far we have bottled a handful of whites and our Rock Point wines. Plus, this year we are so excited to have bottled two new wines! Both are very limited in production. We are going to share them with you soon. Ok, we will share a few hints . . .  one is a white wine we have never made before. We made only 20 cases and will be very limited in sales, so stay tuned. The second we have created to mark the  vineyards' 20th Anniversary! That one will be arriving this Fall. As our loyal wine club members, you will have the first access.
The winery also has some new faces. Joining the team as our new bottling manager and cellar hand is Charley Thomas. We also have two new cellar hands with Carlos Camacho and Eric Jimenez joining us. We are thrilled to have our
The final bit of really good news is that Clayton Wallace got married! Clayton and Hillary were wed on Saturday, May 23rd. Although it is not the wedding they planned, they had a small intimate wedding in the vines. This is our second Wallace wedding at the vineyard, and we are so incredibly happy. I am sure we will hear from the newly married Clayton (AKA Mr. Awesome) in our next newsletter.
In looking back it has been an incredibly full ten weeks, but we sure did miss you. We are grateful to have stayed in touch via our Wine Wednesdays and we are so very thankful for your support throughout this time. With the summer season upon us we are so excited to be open again and to share our wines with you.