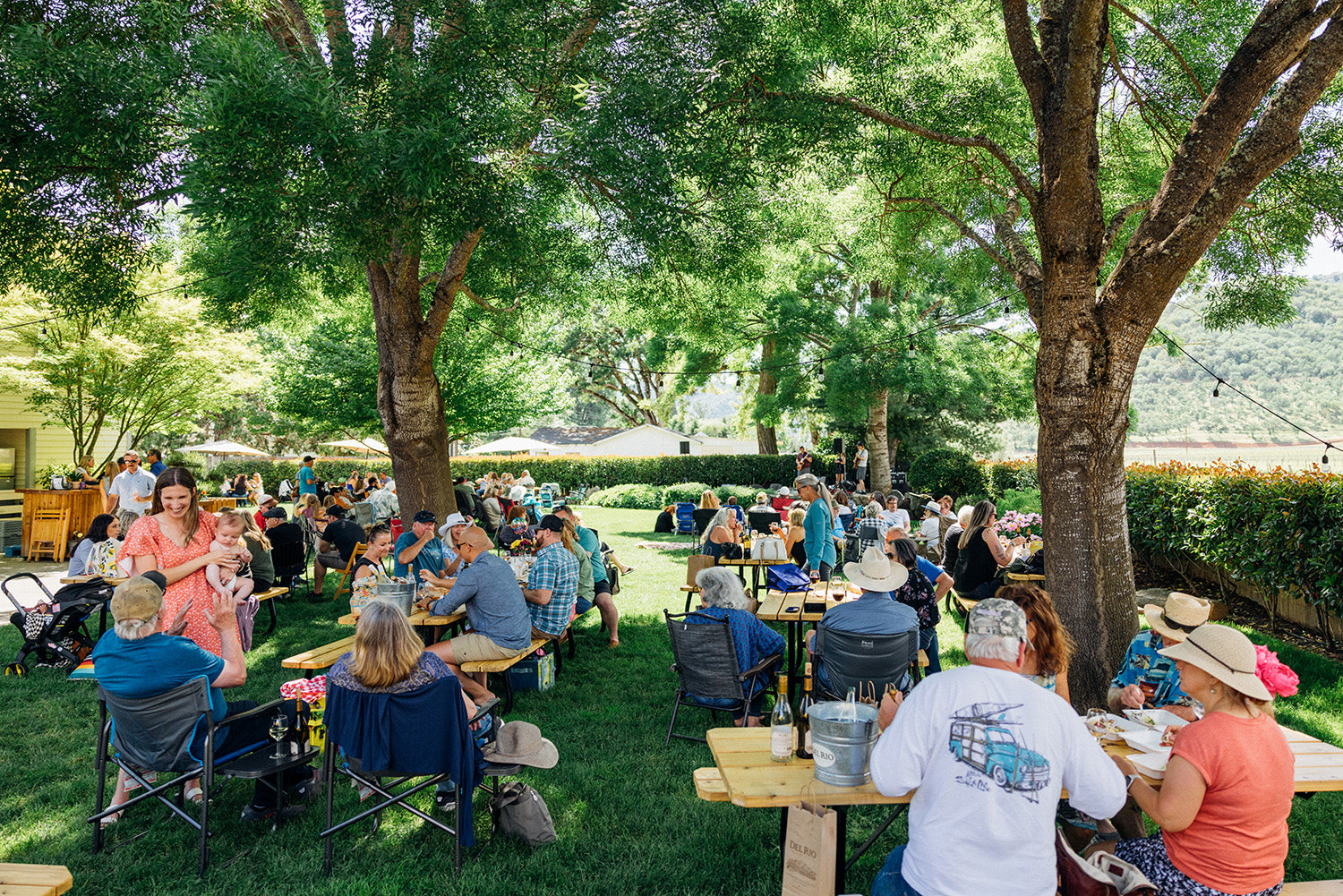 Del Rio Vineyards announces its 2023 Summer Concert Series
Lena Freeman | Tue, Jun 06, 23
Del Rio Vineyards is proud to announce its Summer concert series. Offering both free and ticketed events, Del Rio Vineyards invites guests to visit our tasting room grounds to enjoy live music performances throughout the summer.

As part of the Sunday Slowdown Concert Series, every Sunday until Sunday, September 10th, guests are invited to spend an afternoon in our tasting room garden for complimentary music from 3:30 - 5:30 p.m.

In addition to the Sunday Slowdown Concerts, Del Rio Vineyards will host three Friday Night ticketed concerts, and one exclusive VIP wine club concert. To compliment the live music performances, local food trucks will be on site serving meals available for purchase.

Schedule of Events:

Sunday Slowdown Series: Sundays from 3:30 - 5:30 p.m. FREE admission
June 11 - Live music: Shae & Jenni, Food Truck: Lomeli de Fusion 

June 18 - Live music: Starvation Heights, Food Truck: Truffle Pig Craft Kitchen 

June 25 - Live music: Mae Day Band, Food Truck: Lomeli de Fusion 

July 2 - Live music: Dave Vestnys, Food Truck: Mama D's Kitchen 

July 9 - Live music: Frankie Hernandez, Food Truck: Rogue Sushi 

July 16 - Live music: Jared Gutridge, Food Truck: Smitty's 

July 23 - Live music: Jeff Kloetzel & Bob Evoniuk, Food Truck: Truffle Pig Craft Kitchen

July 30 - Live music: Delilah Beaucoup, Food Truck: Mama D's Kitchen 

August 6 - Live music: Daniel Nickles Band, Food Truck: Rogue Sushi

August 13 - Live music: Band of Brothers, Food Truck: Truffle Pig Craft Kitchen 

August 20 - Live music: Ann Kelly and Mike Ross, Food Truck: Fatso's Cheketos 

August 27 - Live music: Mercy, Food Truck: Smitty's 

September 3 - Live music TBD, Food Truck: Fatso's Cheketos

September 10 - Live music: Alice Di Mecele & Andy Casad, Food Truck: Mama D's Kitchen


Friday Night Concerts: 6 - 8 p.m. Tickets required: $10 for wine club admission, $15 for general public admission: Purchase Tickets
June 23 - Live music: Danielle Kelly Soul Project, Food Truck: Mama D's Kitchen

July 28 - Live music: Nick & Shae, Food Truck: Truffle Pig Craft Kitchen

August 25 - Live music: Lisa and the Dynamics, Food Trucks: Smitty's & Peruvian Point
Exclusive VIP Wine Club Concert: 6 - 8 p.m., Tickets required: $10 wine club admission. This event is for VIP level Wine Club Members only. Purchase Tickets
July 14 - Live music: Rogue Suspects, Eagles Revue, Food Trucks: Truffle Pig Craft Kitchen & Peruvian Point

Concert Rules and Etiquette: 
Concert events are weather permitting, and may be canceled or rescheduled due to inclement weather conditions. 

For Sunday Slowdown events, the Backyard Bar opens at 2 p.m. for wine by the glass and/or bottle.

Complimentary Tasting Flights for Wine Club members end at 2 p.m. on event days. 

General seating is on a first-come, first-served basis. We highly recommend bringing camp chairs and picnic blankets as table availability is limited. 

Seating reservations are for Premier (12 bottle) Wine Club Members. If you are a Premier Wine Club member, please call our Tasting Room to make your reservation: 541-855-2062.

Although Del Rio Vineyards is a pet-friendly facility, we request that pets stay home during concert events. 

Under no circumstances is outside alcohol, smoking or vaping allowed on the premises. 

Children must be supervised at all times. 

Please do your part and place all trash, bottles, and recyclables in appropriate receptacles.