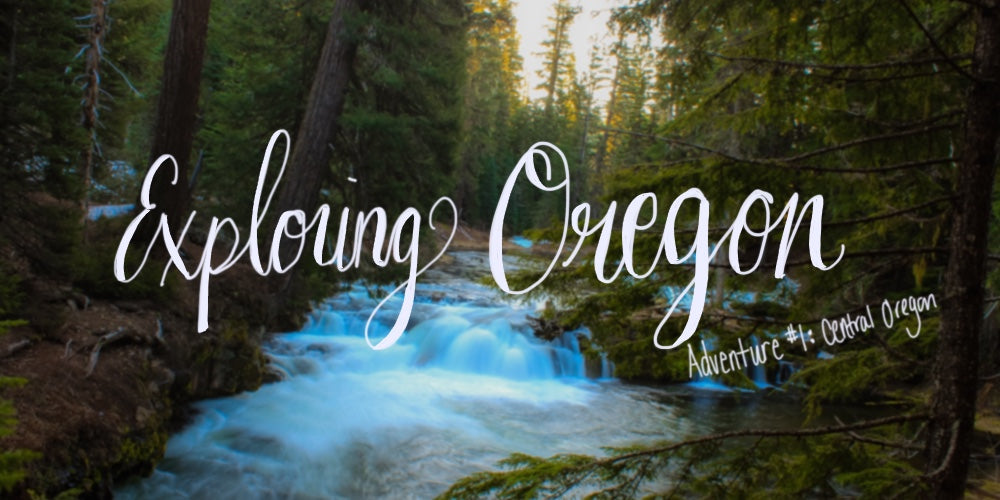 Explore Oregon with Del Rio!
Lindsey Zagar | Mon, Nov 16, 20
Oregon wine month is here and it is time to celebrate this incredible state we live in and the delicious wine it can produce. In honor of Oregon wine month we are going to take you on four quick trips around the state. We (Courtney & Lindsey) did all four in just four days, however, we wouldn't recommend going at such a speed, as there is just sooo much to soak in and enjoy in this great state.  So, each Sunday look for a new blog post and follow our adventures around Oregon.

Adventure #1: Central Oregon. It's called a playground for a reason
Up nice and early we headed out on the beautiful scenic highway 62 with our destination set for Bend. As each trip will attest, the drive to the destination is full of so many great stops along the way. About an hour out from Gold Hill you will reach Union Creek and just a few miles past is a road off to the beautiful National Creek waterfall. The road to the falls was blocked by snow, so our first pit stop was the Diamond lake view point.  Breathe in the clean air and enjoy a picnic with a view of both Diamond Lake and Mt. Thielsen. We stopped to snap a few photos of the amazing view. The next three locations we spent a bit more time:
STOP 1: SUNRIVER:
Not long we were off and running again with our next stop the Sunriver Resort. Sunriver is a place you could stay for days. We soaked up a good hour and a half. After strolling through the village in the heart of the resort, we came across the 4 Season Sports bicycle shop. A quick glance at each other and we knew a bike ride would be just the perfect way to see the resort. So we did the 4.75 mile loop around along the river, horse stables, golf course and meadow. The ride as just right and we were able to see lots of wildlife including a cool coyote. After the ride a stop at the Sunriver Brewery's restaurant is a must. Plus they have the delicious Del Rio Chardonnay on the menu. If you go please tell them hi for us.
STOP 2: BEND
Only a few miles away is the beautiful city of Bend. Everyone was outside! We had lunch on the perfect outdoor patio at Greg's Grill. There was plenty of entertainment, with bicyclist and dogs in the bike baskets strolling along the beautifully manicured sidewalk. The Deschutes River also makes the best back drop. Not to mention the stroll through all the fabulous shops and small tasting rooms of the Old Mill District. If you want to go to a fabulous market and grab a bottle of Del Rio or Rock Point we highly recommend stopping in at the Newport Avenue Market. They have an amazing selection of groceries, wines, kitchen supplies and more! Another place not to miss if you are downtown is dinner at 900 Wall.

STOP 3: SMITH ROCK STATE PARK
After soaking up the city we moved north to Smith Rock State Park. It is roughly a 40 minute drive north on 97. You turn right at Terrebonne and it only a few miles off the main road. The weather was incredible so the park was pretty busy, filled with rock climbers, hikers, and families out exploring. As we pulled into the parking lot we experience one of the highlights of the trip. There was a climber with an empty bottle of Rock Point White! What an amazing feeling it is to see our wine out and about being enjoyed. After bugging her for a photo op we grab our backpacks and went for a hike. The park is incredible, offering beautiful views of the river and rock formation. This is a must if you are ever in Central Oregon. You can also spend a lot of time here, there are multiple option for hikes with different difficultly levels. We experience the park in the early evening and colors were impressive. Our pictures cannot do it justice.

Our time in central Oregon just made us want to come back, share this beautiful place with our friends and families. We hope you too will explore it. Let us know your favorite spots!
Until next Sunday,
~ Courtney & Lindsey
Pictures from our Central Oregon Adventure: