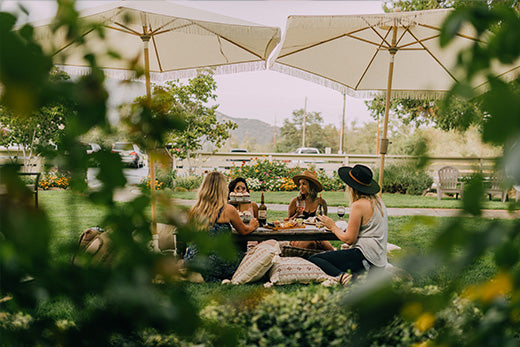 Lindsey Zagar | Tue, Aug 10, 21

Picnics are a summer staple and Del Rio has the perfect picnic spot. Our tasting room grounds are designed for outdoor enjoyment. We have picnic tables scattered around the tasting room. We invite guests to come and enjoy them. We do offer picnic staples in addition to your favorite wines from delicious Rogue Creamery cheeses and Rising Sun tortas to meats and olives. You are also more than welcome to bring your own picnic food. 
Don't want to do the work? We recently have partnered with a local picnic company, Rogue Picnics, in hosting their designed picnics on our site. You can visit their website for details on bookings.
How to build a simple Charcuterie


A quick scroll through your social media account and it is hard not to see beautiful images of food and in particular charcuterie board creations. They are a great addition to dinner parties or a tasty photo opt for a picnic, plus they are delicious. You can't go wrong with a plate of cheese, meat, cracker and wine. Here are a few quick tips for making a simple charcuterie board. 

Charcuterie (pronounced shar-COO-tur-ree) & cheese plates
A basic board has some key elements: the platter, supporting dishes, cheese, meats, crackers and produce. Begin with selecting your platter, setting the stage for size, which should be considered based on number of guests. Next place your dishes with spreadable items such as hummus, honey, mustard or small items such as olives and nuts.  Then place your cheeses and meats. The standard rule is about 2oz of each per guest. A great cheese combination is a hard cheese, a brie and a blue cheese. The crackers or bread can fill in around the edges. Then have fun with placing a variety of produce. You have many options from dried fruit such as apricots, fresh figs, and berries to radishes, bell peppers and tomatoes. There are endless design options, from colors to themes. Simply start with the core basics and explore from there. We would love to see your charcuterie creations – tag us online @delriovineyards