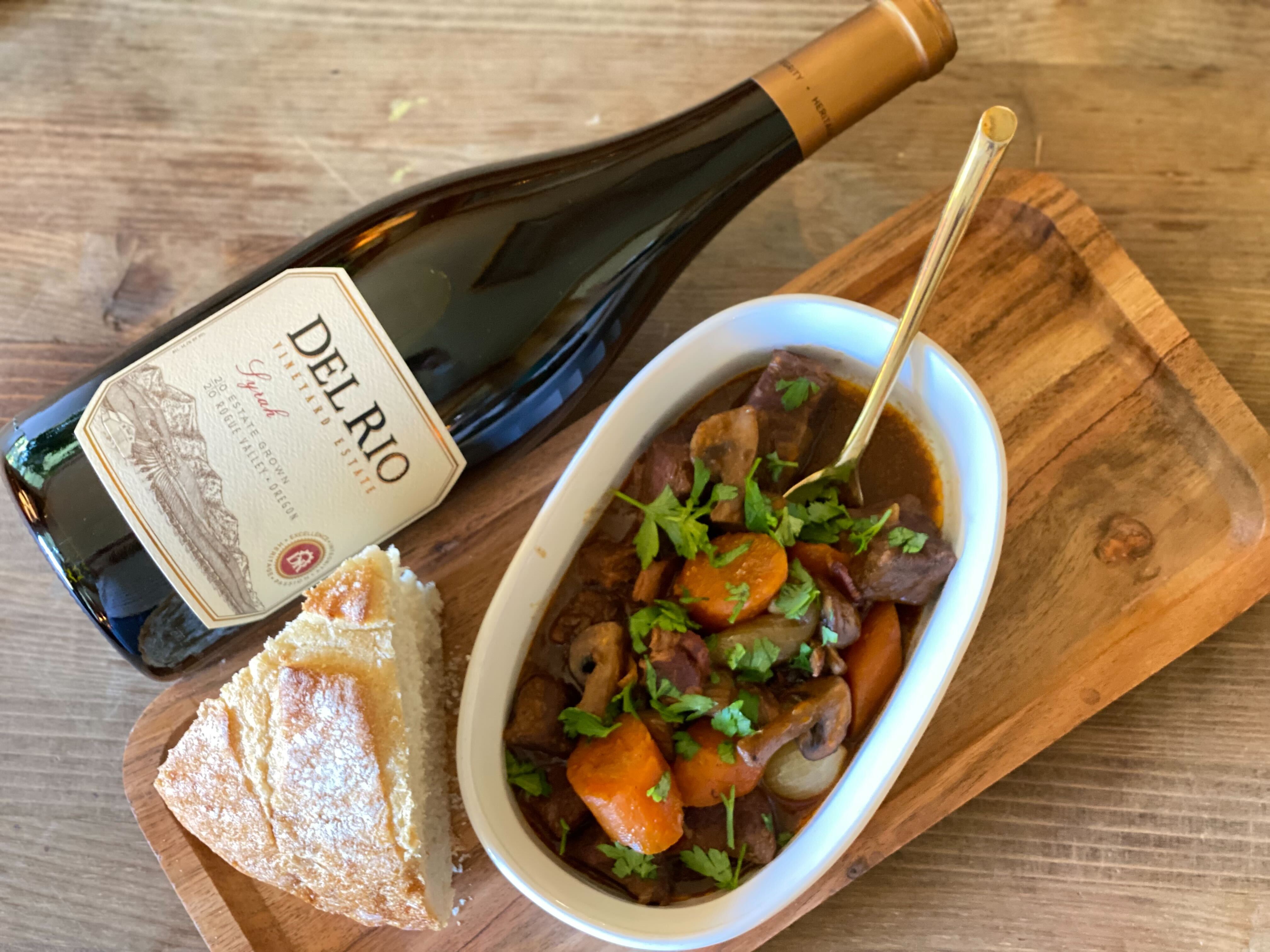 Lena Freeman | Tue, Oct 24, 23
During the cold winter months, I enjoy making warm and tasty stews and soups for dinner. My twist on a classic French dish, beef bourguignon (beef stew), simplifies Julia Child's famous recipe to make it accessible for everyone. The most important step is to let it cook in a slow cooker for 6 to 8 hours, which makes the beef incredibly tender and delicious.
Beef Bourguignon is a beloved French classic from the Burgundy region, and it's traditionally made with Pinot Noir and Syrah wines. Instead of using pork fat cubes (lardons), this recipe uses thick-cut bacon. First, you cook the bacon until it's crispy, and then you brown the beef in the bacon fat. This adds a rich and savory flavor to the stew that's so good. This dish can be eaten alone or served with mashed potatoes, rice or noodles. Don't forget to grab some crusty bread to savor every last bit of this tasty dish! Pairs great with the Del Rio Syrah. ~ Jolee
Ingredients:
3 pounds stewing beef cut into 1-inch cubes
6 slices of bacon cut into 1"-2" cubes
2 tsp Kosher salt
1 tsp freshly ground black pepper
4 sprigs fresh thyme leaves
2 bay leaves
4 garlic cloves finely chopped
12 small pearl onions, fresh, frozen, or omit
3-4 carrots peeled and cut into 1-inch chunks
1 white onion, diced
2 tbsp good brandy
2 cups red wine – preferably a Pinot Noir or Syrah
2 cups canned beef broth
2 tbsp tomato paste
1/4 cup of flour
1 pound Baby Bella mushrooms, quartered
2 cloves garlic, minced
2 tablespoons butter
Fresh parsley
Preparation:
Dry the beef cubes & sprinkle with salt & pepper.
Cook bacon over medium heat until browned. Set bacon aside.
Using bacon grease, sear the beef in batches in a single layer for 1 to 2 minutes each side, turning to brown on all sides. Move the seared beef & bacon to the slow cooker.
In the pan, add the onions (both kinds) carrots, garlic, thyme and bay leaves & sauté for a few minutes until glistening. Once glistening, add carrot mixture to the slow cooker.
Take pan off of the heat & add wine, brandy & 1 cup of beef broth. Bring to a gentle simmer. As this comes to a simmer, combine 1 cup of beef broth, flour & tomato paste in a small bowl. Add the mixture to simmering broth. Combine & allow to thicken for a few minutes.
Add wine broth mixture to slow cooker & let cook for 6-8 hours.
In the last 5 minutes of cooking time, prepare your mushrooms: Heat the butter in a medium-sized skillet/pan over medium heat. Add the remaining 2 cloves garlic & cook until fragrant (about 30 seconds), then add in the mushrooms. Cook for about 5 minutes, while shaking the pan occasionally to coat with the butter. Season with salt & pepper, if desired. Add to the Beef Bourguignon, mixing them through the sauce before serving.
Garnish with fresh parsley and serve with mashed potatoes, rice or noodles.