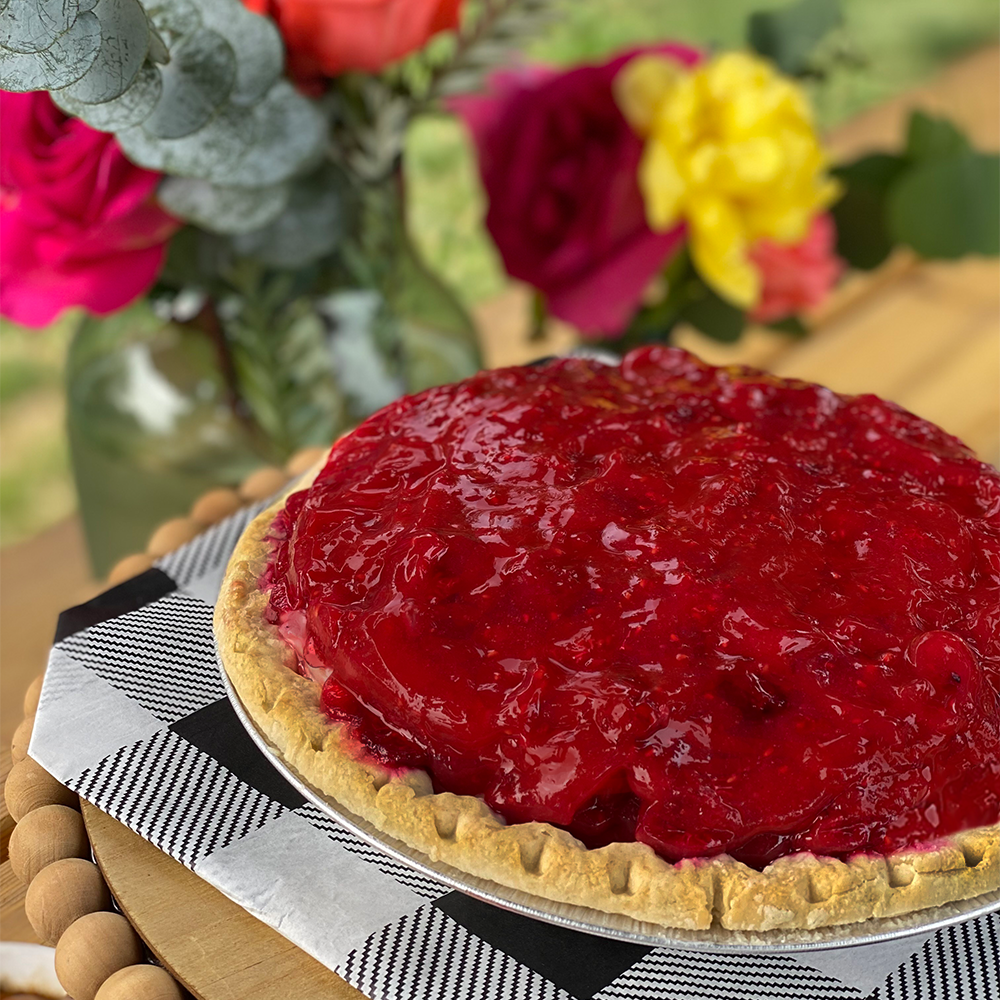 Jolee's Kitchen: 4th of July Pie
Lena Freeman | Tue, Jun 20, 23
The Fourth of July is a time for celebration, and what's more festive than a red, white and blue pie made with ripe summer berries? Try this 4th of July pie! This recipe will be the centerpiece of your Independence Day gatherings that will have your guests asking for more. Try this pie with the 2022 Grenache Rosé or the Jolee Pinot Gris.

Ingredients:
1 Dough for single-crust pie
1-

½

cups sugar
1/4 cup plus 1-

½

teaspoons cornstarch
1-

½

cups water
4 tablespoons plus 1-

½

teaspoons raspberry gelatin- If using sugar free use ½ the amount
1-pint fresh unsweetened blueberries – or frozen
1 teaspoon lemon juice
2 Cups frozen unsweetened raspberries – can use fresh as well
4 ounces cream cheese, softened
1/3 cup confectioners' sugar
1-3/4 cups whipped topping
Directions
Preheat oven to 425°F. On a lightly floured surface, roll dough to a 1/8-inch-thick circle; transfer to a 9-in. pie plate. Trim any excess to

½

inch beyond rim of plate; crimp edges. Refrigerate for 30 minutes.
Line crust with a double thickness of foil. Fill with pie weights, dried beans, or uncooked rice. Bake on a lower oven rack until the edge is golden brown, 20-25 minutes. Remove foil and weights; bake until bottom is golden brown, 3-6 minutes longer. Cool completely.
In a large saucepan, combine the sugar, cornstarch and water and stir until smooth. Bring to a boil, then cook and stir until thickened, about 2 minutes. Stir in gelatin until dissolved. Divide mixture in half.
Stir blueberries and lemon juice into 1 portion; spread over crust. Chill until set. Gently fold raspberries into remaining gelatin mixture; cool to room temperature and set aside.
Meanwhile, in a small bowl, beat cream cheese and confectioners' sugar until smooth. Fold in whipped topping and spread over your chilled blueberry layer. Refrigerate until the filling is set, about 2 hours.
Carefully spread raspberry mixture over cream cheese layer. Chill and serve.