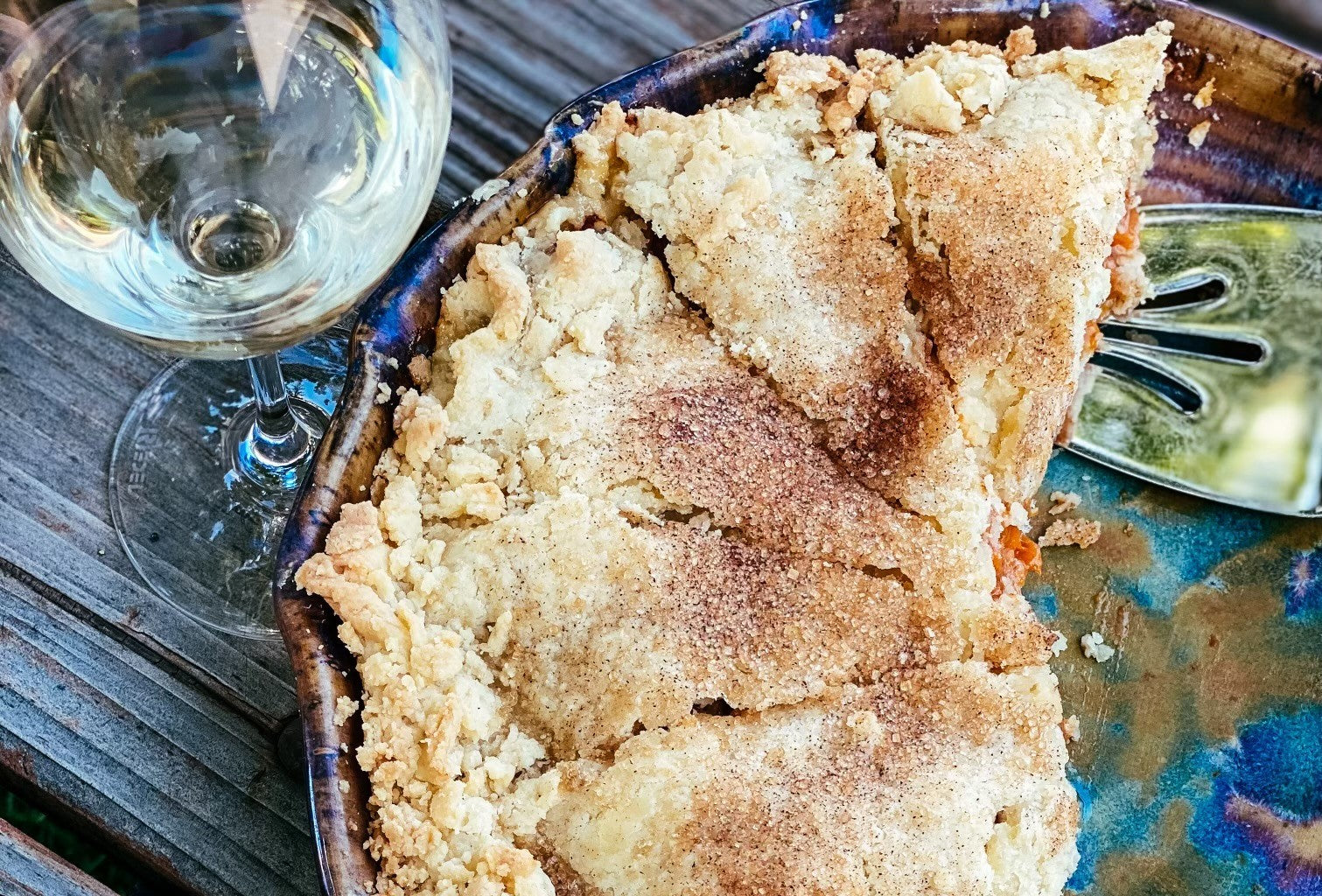 Jolee's Kitchen: Apricot Pie
Jolee Wallace | Thu, Jul 01, 21
Jolee's Kitchen
Jolee's Kitchen

We're back this week with a simple and delicious apricot pie recipe, perfect for a warm summer night and paired wonderfully with Pinot Gris or Viognier! Enjoy.
_____________________________________________________________________
Apricot Pie
 INGREDIENTS

 2 1/2 lbs fresh ripe apricots, pitted and sliced into 1/2″ thick slices
1 tbsp lemon juice
1/4 cup granulated sugar
2 tbsp all-purpose flour
1 tsp cinnamon
1/8 tsp salt
1 egg whisked together with 1 tbsp cold water
Make or purchase 2 pie crusts
Preheat Oven to 425˚F. 
Transfer the 1st dough to a 9inch pie plate
Stir together the dry ingredients in a small bowl: 1/4 cup sugar, 2 tbsp flour, 1 tsp cinnamon and 1/8 tsp salt.
Pit apricots and slice into 1/2″ thick slices and place them in a large mixing bowl. Drizzle with 1 tbsp lemon juice and gently stir. Sprinkle the sugar/flour/cinnamon mixture over the sliced apricots and toss gently to combine 
Transfer prepared apricot filling into the bottom of your pie pan that is lined with pastry dough.
Use the 2nd pie dough to cover and crimp the edges. 
Beat together 1 egg with 1 tbsp cold water. Brush top and edges of pie generously with egg wash. Can sprinkle with cinnamon and sugar.
Place pie on the center rack and bake at 425 ˚F for 20 minutes then place cookie sheet lined with foil under the pie to catch any drips. 
Reduce oven to 375˚F and bake an additional 30 min until your filling is bubbling. Loosely cover the top of the pie with foil if it is starting to brown too quickly.
Hardest part – let rest for about 2 hrs before cutting.  – serve with vanilla bean ice cream.