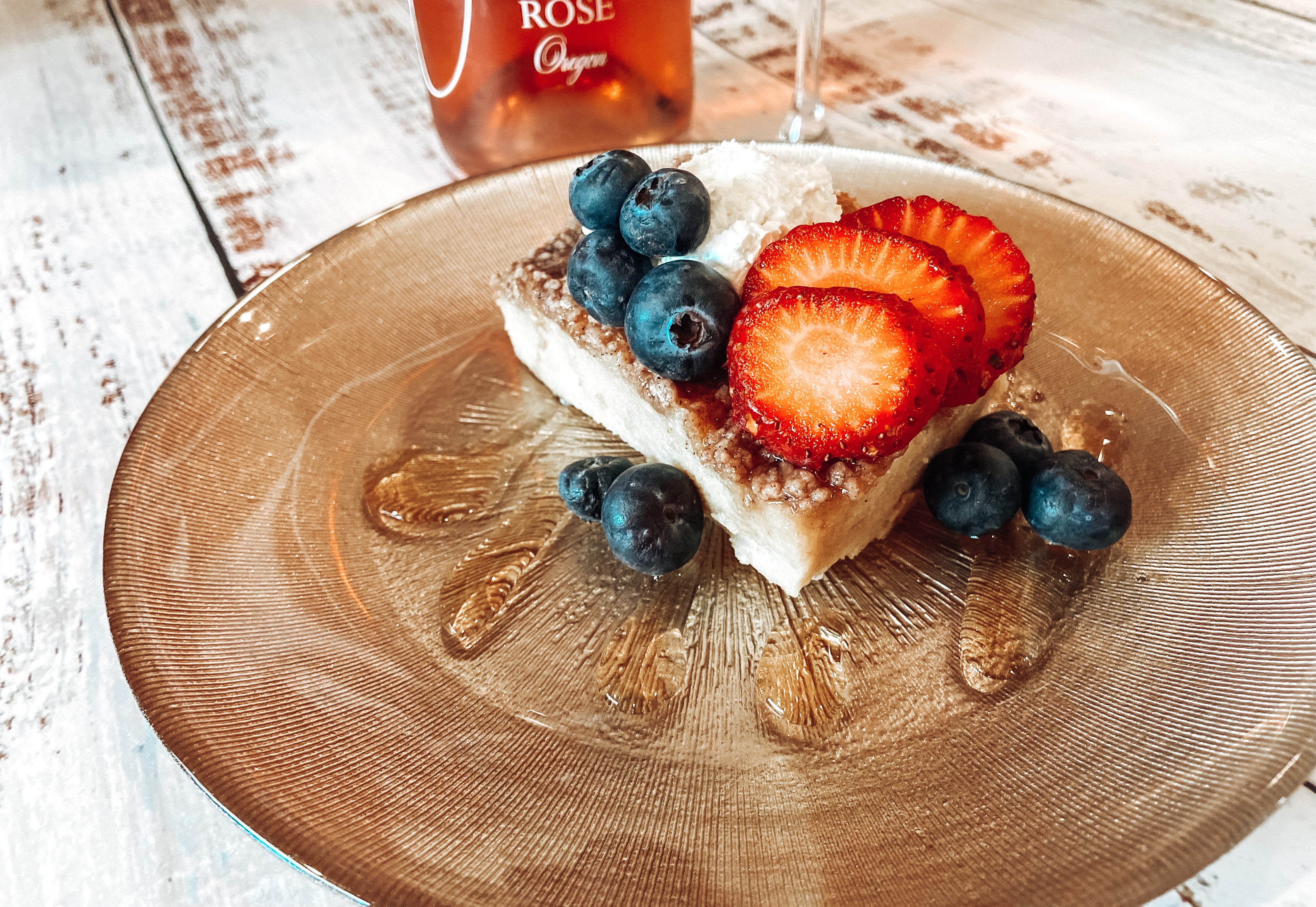 Jolee's Kitchen: Baked French Toast
Jolee Wallace | Tue, Mar 30, 21
Jolee's Kitchen

With the autumn season here, we wanted to give you a delicious recipe sure to please. Paired with Rose Jolee, this Baked French Toast is the perfect brunch recipe you've been looking for. We hope you enjoy this dish from Jolee's Kitchen.

___________________________________
Perfect for a lazy Sunday, or when you just need to feed a crowd - this French Toast dish will be a homerun hit. We all remember growing up with our mom's making us French Toast. In my family we had to wait in line as my mom made them to order. This recipe combines all of the love put into making French Toast from scratch without any of the hassle. The only problem might be that once you have made it, your family will want you to make it again and again.
To make this a perfect pairing with the Jolee Rose, I have added a whipped cream topping with lemon zest to offset the sweetness of the dish. Garnish with your favorite berries for a sweet, creamy, and delicious dish for your brunch. No better way to start off a day. 
Cheers.
- Jolee Wallace
INGREDIENTS

1 loaf French bread
8 whole eggs
2 cups whole milk
1/2 cup heavy whipping cream
1/2 cup granulated sugar
1/2 cup brown sugar
2 tablespoons vanilla extract

TOPPING INGREDIENTS

1/4 cup all purpose flour
1/4 cup firmly packed brown sugar
1/2 teaspoon ground cinnamon
Dash of salt
Dash of nutmeg
1/2 stick cold butter, cut into pieces 

WHIPPED TOPPING INGREDIENTS

1 cup heavy whipping cream
1 tablespoon sugar
1 teaspoon vanilla
Zest of 1/2 lemon

GARNISH WITH

Warm, real maple syrup
Fresh berries
For the French Toast: Grease a 9x13 baking pan with butter. Tear the bread into chunks, or if you prefer – cut into small pieces. Place evenly in pan. Crack the eggs in a big bowl. Whisk together the eggs, milk, cream, granulated sugar, brown sugar and vanilla. Pour over the bread. Cover the pan tightly and store in the fridge until needed. Best if made the night before.
For the topping: Mix flour, brown sugar, cinnamon, salt and some nutmeg in a separate bowl. Stir together using a fork. Add the butter, and with a pastry cutter, mix it all together until the mixture resembles fine pebbles – (or put all ingredients in a food processor and pulse into small pebbles). Store in a re-sealable plastic bag in the fridge. 
For the whipped cream: Pour 1 cup heavy cream into a mixer with beaters. Add vanilla and slowly add sugar until the cream is forming stiff peaks. When done, fold in zest and set aside until ready to serve.
When you're ready to bake the casserole, preheat the oven to 350 degrees F. Remove the casserole from the fridge and sprinkle the topping over the top. Bake for 50 minutes.
When the French Toast is done, scoop out individual portions, pour a small amount of maple syrup over top, followed by a generous dollop of whipped lemon cream and fresh berries.