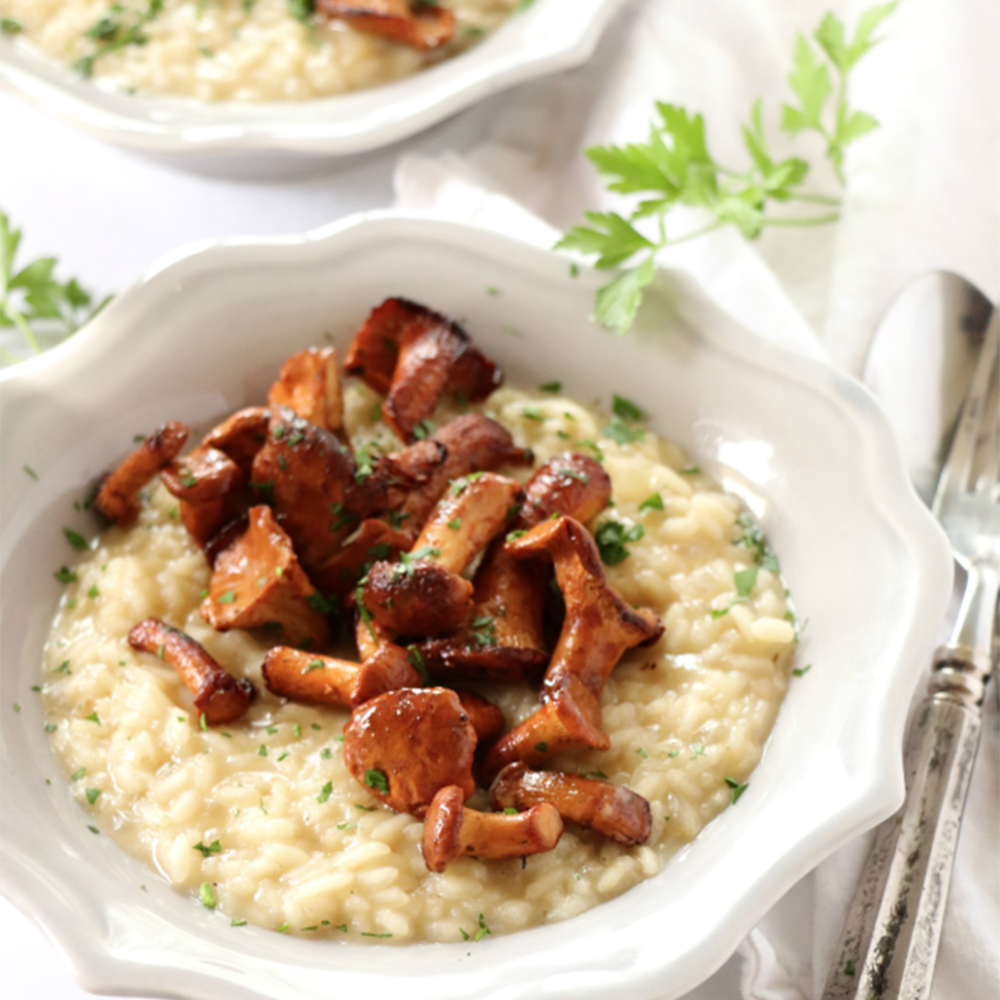 Jolee's Kitchen: Chanterelle Mushroom Risotto
Lena Freeman | Tue, Aug 15, 23
Autumn in Oregon is prime mushroom hunting season, and I'm excited to enjoy all of the delicious mushroom meals that I can over the next few month. If you're lucky enough to get your hands on some fresh, wild Chanterelles this season, I highly recommend making this Chanterelle Mushroom Risotto. This dish offers the perfect balance of hearty, creamy and savory flavors and is an amazing addition to the 2021 Pinot Noir. Enjoy!

~ Jolee

Ingredients:
2 tablespoons olive oil
16 oz. Chanterelle mushrooms, cleaned, ends trimmed, and cut in half
Kosher Salt and ground black pepper, for seasoning
2 tablespoons butter
1 ½ cups Arborio rice
2 cloves garlic, minced
½ cup dry white wine
4 cups chicken stock
½ lemon, juiced
¼ cup Parmesan, grated
1 tablespoons parsley, chopped

Preperation:
Heat the chicken stock in a medium saucepan until simmering then lower the heat so the stock just stays warm.
In a large heavy bottomed pot heat olive oil over medium high heat. Add the chanterelle mushrooms and let them sauté on one side until they are browned, about 5 minutes, stir to sauté the other side and let them continue to brown for another 2 minutes until they're about half the size. Season with kosher salt and ground black pepper to taste, stir and remove to a plate and set aside.
Add the butter, arborio rice and garlic to the pot, stir to slightly toast the rice and sauté the garlic, about two minutes. Turn heat to medium and add white wine and cook while stirring, until the liquid is fully absorbed.
Ladle in a cup at a time of warm chicken stock to the rice and stir until the liquid is fully absorbed. When the rice appears almost dry, add another cup of stock and repeat the process until stock is fully absorbed. It's important to stir constantly.
As the rice cooks, you'll see that the rice will take on a creamy consistency as it begins to release its natural starches. About 20 minutes and the rice should be tender and stock should be completely absorbed.
Turn heat off and add lemon juice, parmesan, and reserved cooked mushrooms. Stir and season with a pinch of kosher salt and ground black pepper. Garnish with chopped parsley. Serve immediately and enjoy!