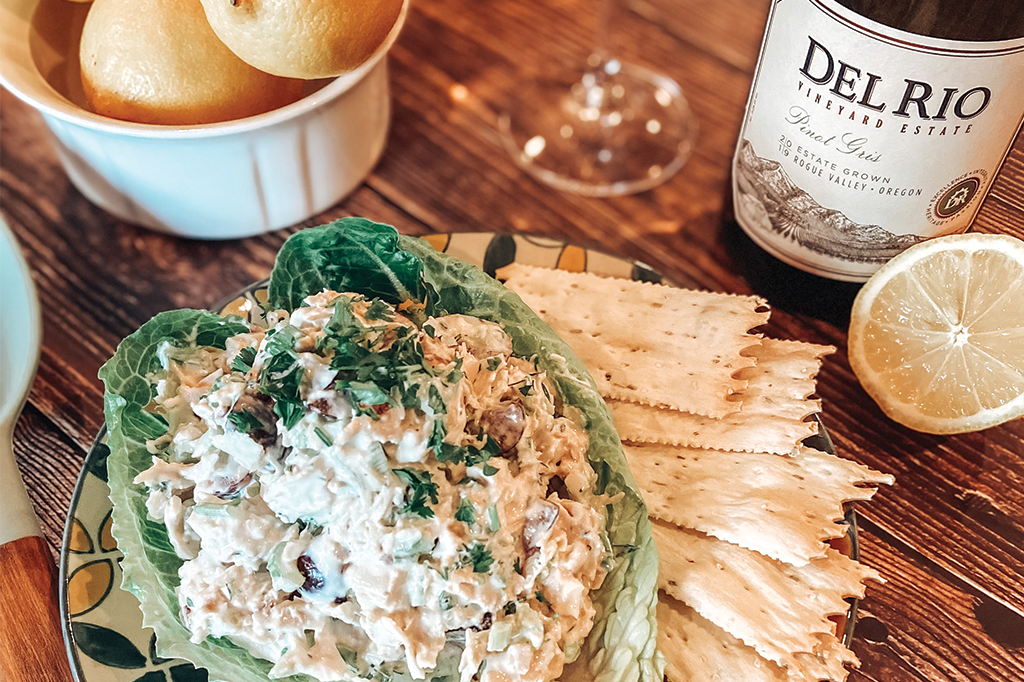 Jolee's Kitchen: Chicken Salad
Jolee Wallace | Wed, Mar 10, 21
Jolee's Kitchen

To mark the release of our 2019 Pinot Gris, we are back with another blog post from Jolee's kitchen! This week we are highlighting a simple and delicious chicken salad recipe inspired by a childhood memory of Jolee's. We are excited to share another wonderful recipe with you, and hope you enjoy this chicken salad as much as we do.  

___________________________________
When I think of chicken salad, my first thought goes back to the Methodist Woman's Luncheon Fashion Show in Arbuckle, California. It was during the 1970's when the ladies of the community would sew their own clothes to model.  Later, the local store would loan clothes as many of the moms stopped sewing.  My mom would make me go and sit for what seemed like hours, but really I did not mind because I knew we were going to get Elzorah's famous chicken salad. I loved it!! Her chicken salad, I'm sure, was loaded with mayo and celery.
This Chicken salad takes me back to those days with a modern twist. The fresh herb and grapes make this salad bright and clean, and the almonds, along with the celery, give it a nice crunch. We don't have local ladies fashion shows anymore, but this salad, I think, would be perfect to celebrate a new baby or bride to be. It can be served on a bed of lettuce, with whole grain bread, or on a nice buttery cracker, and pairs perfectly with Del Rio Vineyard Estate Pinot Gris. 
- Jolee Wallace 
Chicken Salad with Grapes & Almonds
INGREDIENTS

•

 1/2 cup mayonnaise

•

 1/2 cup plain fat free Greek yogurt

•

 1 tablespoon Dijon mustard

•

 1 tablespoon fresh lemon juice

•

 4 cups chopped cooked chicken 

(about 5 chicken breasts)

•

 1/2 cup chopped green onions

•

 1 cup halved red seedless grapes

•

 1 tablespoon chopped fresh dill

•

 1 tablespoon chopped fresh flat leaf parsley

• 1 teaspoon freshly ground black pepper

•

 1/2 cup roughly chopped almonds, toasted
Whisk together the mayonnaise, yogurt, mustard and lemon juice in a large bowl. Stir in the remaining ingredients until well blended. Serve with crunchy, buttery crackers, or on whole grain bread with lettuce.