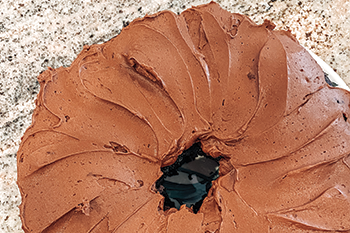 Jolee's Kitchen: Chocolate Dump Cake
Jolee Wallace | Tue, Feb 23, 21
Jolee's Kitchen

If you know anything about Jolee Wallace and her hobbies you know, one, that she loves to quilt and two that she loves to cook for others. We are thrilled to include more blog posts, videos and emails from Jolee's kitchen. We are kicking it off at the end of February with a beautiful Chocolate Cake recipe.  

___________________________________
There is just something about cooking food for people that has always been appealing to me. It is such a simple gesture that makes people happy. I suppose it comes from when I was very young and stayed with my great grandmother. Living only two blocks away from her, I would visit and stay with her often. She would let me cook whatever I wanted. We never used recipes, but always had wonderful meals. Making substitutes for items that were not at her house, we made do with what we had.

Using vinegar in milk has been one of those tricks that has passed through generations and is a great substitute for buttermilk. In this chocolate cake recipe, that is exactly what we are creating with the vinegar and milk. I've never tried it with buttermilk. If you do, please let me know how it turns out. This chocolate "dump cake" is a very, very moist cake that is made in an angel food cake pan. I think it is to help it get out. Make sure and prepare your pan well before putting in the oven. If not, you will have a mess. This super moist cake along with the sour cream/chocolate frosting gives it a special tang that I believe complement each other fabulously. I hope you enjoy it as much as I do.  
                                                                                                   ~ Jolee Wallace
Chocolate Dump Cake with Chocolate Sour Cream Frosting.
INGREDIENTS

•

2 cups sugar

•

4 ounces unsweetened chocolate

•

1 stick unsalted butter, plus more for greasing the pan

•

2 cups all-purpose flour, plus more for dusting the pan

•

2 teaspoons baking soda

•

1 teaspoon baking powder

•

1 teaspoon cider vinegar

•

1 ½ cups Nestle's semisweet-chocolate chips

•

1 ½ cups sour cream, at room temperature
PREPARATION
1.
Preheat the oven to 375 degrees and place a baking sheet on the lowest rack to catch any drips as the cake bakes on the middle rack. In a 2- to 3-quart pot, mix together the sugar, unsweetened chocolate, butter and 1 cup of water. Place over medium heat and stir occasionally until all of the ingredients are melted and blended. Remove from the heat and let cool slightly.
2.
Meanwhile, sift together the flour, baking soda, baking powder and salt. In a small bowl, stir together the milk and vinegar. Grease and flour a 9-inch angel food pan (Tip: Be meticulous, and really work the butter and flour into the crevices of the pan. This is a super moist cake, so it really needs a well-prepared pan to keep it from sticking).
3.
When the chocolate in the pot has cooled a bit, whisk in the milk mixture and eggs. In several additions, and without overmixing, whisk in the dry ingredients. When the mixture is smooth, add the vanilla and whisk once or twice to blend. Pour the batter into the tube pan and bake on the middle rack until a skewer inserted in the center comes out clean, about 30 to 35 minutes. Let the cake cool for 10 minutes, then remove from the pan and cool on a rack. (This can be tricky -- if someone is around to help, enlist him.) Let cool completely.
4.
Meanwhile, melt the chocolate chips in a double boiler, then let cool to room temperature. Stir in the sour cream, 1/4 cup at a time, until the mixture is smooth.
5.
When the cake is cool, you may frost it as is or cut it in half so that you have 2 layers. There will be extra icing whether you have 1 or 2 layers.