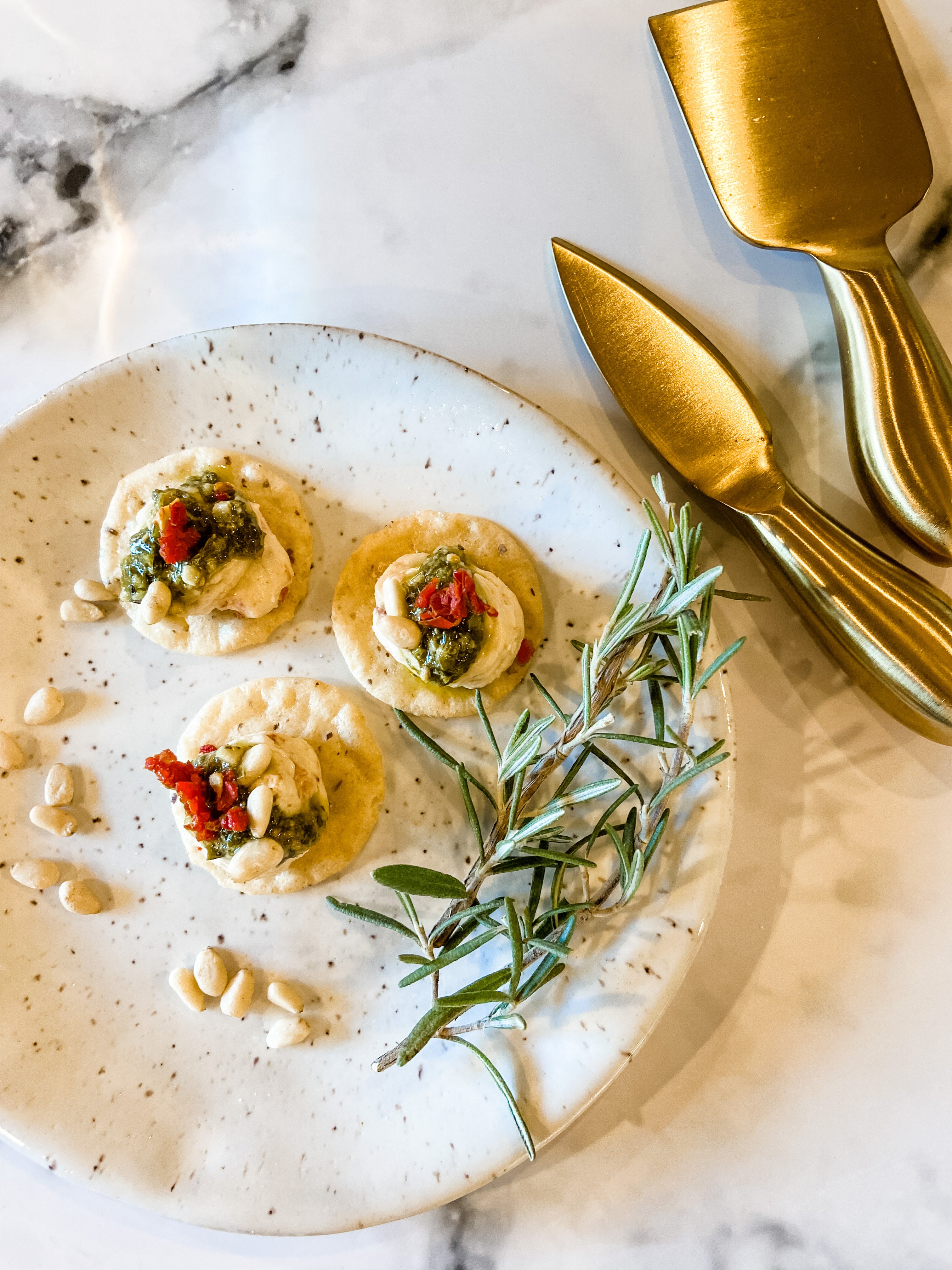 Jolee's Kitchen: Goat Cheese Hummus Bites
Jolee Wallace | Mon, Feb 28, 22
Jolee's Kitchen

This week we are sharing a light and tasty appetizer. Creamy, zesty, and with a satisfying crunch, these bites have a little bit of everything. 

Perfectly paired with Jolee Rose. Enjoy! 
This appetizer is the perfect autumn bite. The lemony freshness of the hummus blended with the tangy goat cheese is a perfect food combination. Adding the little dollop of pesto and a small piece of sundried tomatoes to top it off reminds me of the changing seasons, therefore, this is a perfect addition to a harvest party. Even if you are not a fan of goat cheese, I urge you to try it. There is just something magical that happens when you combine these ingredients together.
To make this recipe one step easier – use lemon hummus. It is often hard to find, so keep your eyes out for it. Please let me know what you think about this small bite appetizer, we are always curious how it turns out with your family and friends!
Here's to many more great recipes to come.
Cheers -
Jolee
INGREDIENTS

3 tbsp Pine Nuts

1/2 cup Goat Cheese (4oz)

1/2 cup Plain Hummus

1 tsp Lemon Juice 

Salt

Pepper

1/4 cup Sundried Tomatoes (minced, not packed in oil)

Sundried Tomatoes for garnish

Gluten Free Rice Crackers or Almond Crackers

2-3 tbsp Pesto
PREPARATION
1. Preheat oven to 375 degrees. Place the pine nuts on a small baking sheet. Bake until lightly golden brown and toasted, about 5-10 minutes. Watch them closely, so they don't burn. Once toasted, finely chop them and set them aside, or keep whole if preferred. 
2. Using a small food processor, mix the goat cheese, hummus, lemon juice, and a pinch of salt and pepper together, until smooth and creamy. You'll need to scrape down the sides of the food processor a few times to get it fully mixed. 
3. Stir the minced sundried tomatoes into the hummus mixture. 
4. Divide the hummus evenly between the crackers (I used a piping bag, but you can cut off the corner of a Ziploc bag and use that instead. Or, simply spoon the mixture on to the crackers.) 
5. Once your crackers are all topped with hummus, add 1/4 tsp of pesto over the top of each cracker and sprinkle with the chopped pine nuts. Garnish with sundried tomatoes.