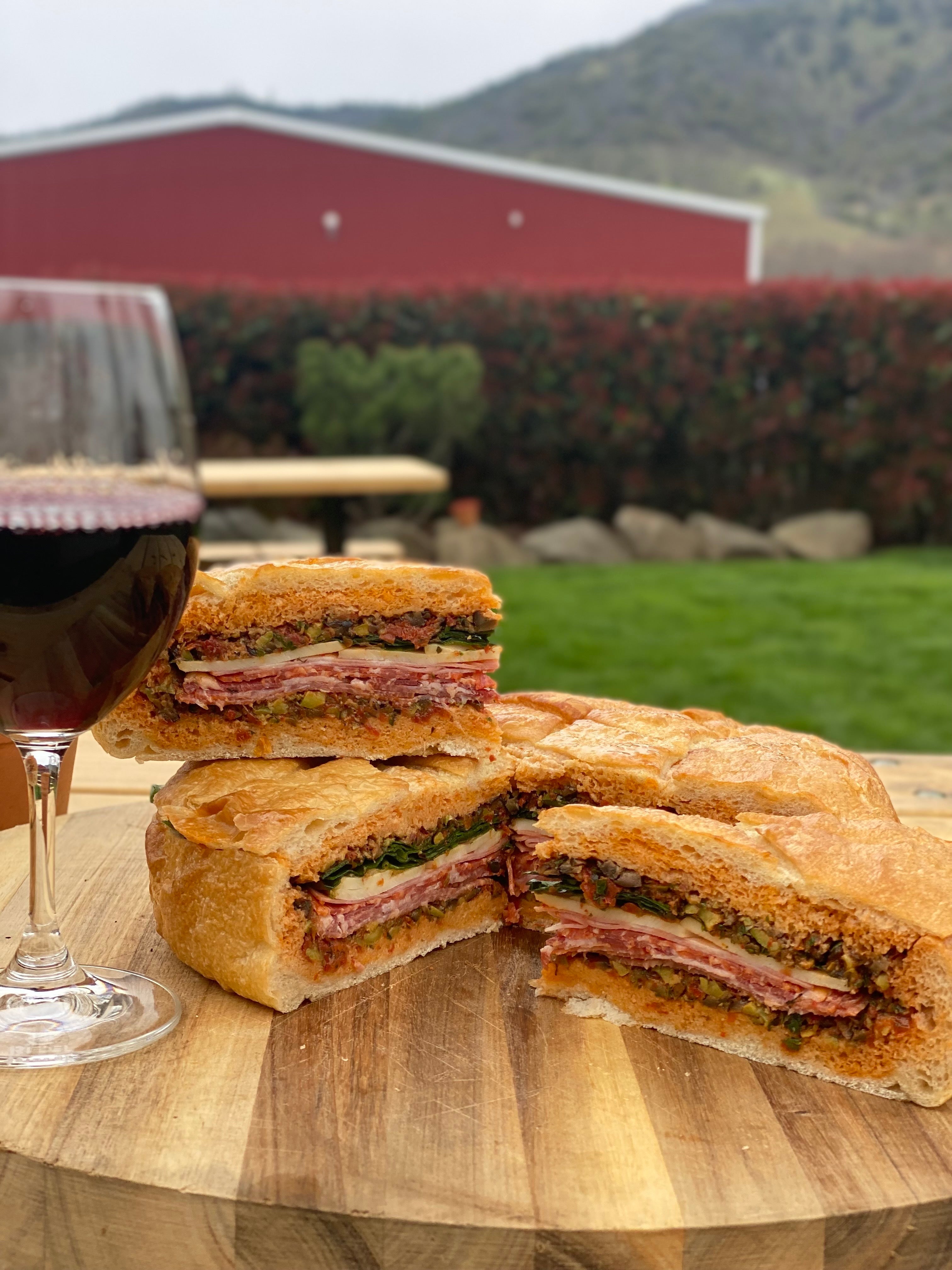 Jolee's Kitchen: Muffaletta Sandwich
Lena Freeman | Wed, Apr 26, 23
Need an upgrade from your regular ham & cheese sandwich? Try a Muffaletta sandwich! This dense and tasty delight is perfect to make ahead of time and bring with you while exploring the great outdoors. It also pairs wonderfully with our 2020 Claret. Happy Trails! 
Olive Salad – make at least 4 hours ahead of time.
1 cup green olives, chopped
1 cup black olives, chopped
¼ cup extra virgin olive oil
4 oz. jarred red pepper – drained and chopped
4 oz. oil packed sun-dried tomatoes, drained and chopped
¼ cup fresh parsley – finely chopped
2 Tbsp fresh lemon juice
1 tsp dried oregano
1 garlic clove, minced
Salt & pepper to taste
Red wine vinegar – optional (just a dash or two)
Mix all ingredients together and refrigerate for at least 4 hours or overnight.
Sandwich Ingredients
1 large round sourdough bread
Olive Salad
8 oz. mortadella
8 oz. provolone
8 oz. hard salami, thinly sliced
4 coppa
4 oz. hot salami
4 oz. Prosciutto
Fresh spinach or arugula
Making the Sandwich:
Slice the round sourdough bread horizontally. Scoop out most of the center of the bread. (use to make bread crumbs or croutons)
Drain the olive salad and put ½ of the mixture on the bottom of bread. Then start layering meats, provolone cheese then either spinach or arugula. 
Top with the other ½ of the olive salad mixture. Wrap up the whole sandwich in plastic wrap.
I then put a plate over the top and put something very heavy on top to smash the whole thing down. Probably for at least 30 minutes to 1 hour.    Then it is ready to go. 
The great thing about this sandwich is there are no hard-set rules. Add or substitute any of the meats. Try adding artichoke hearts or pepperoncini! I do recommend sticking with provolone for this sandwich as others I've tried don't hold up as well.