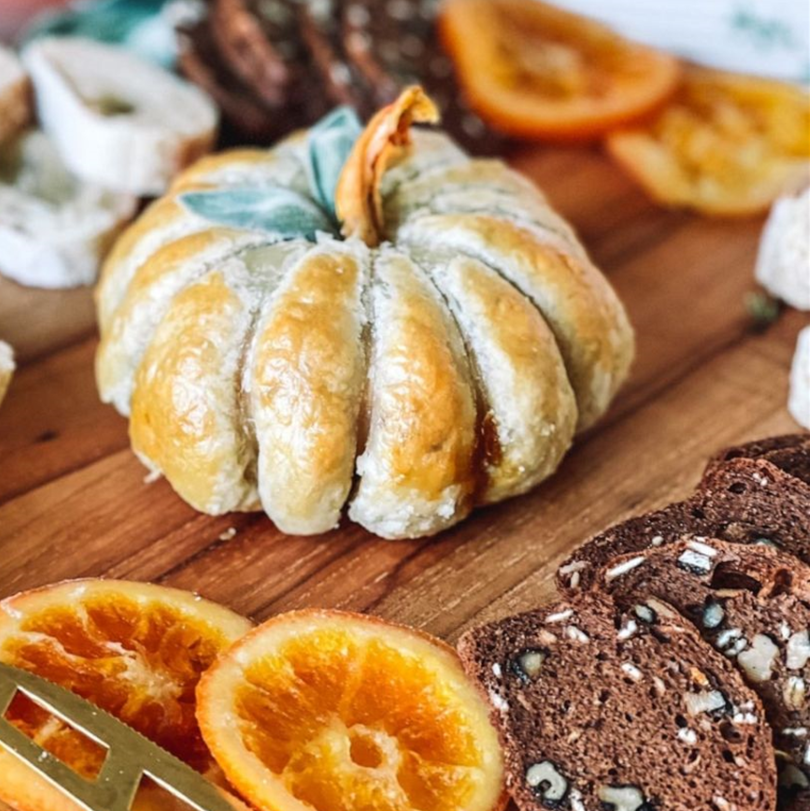 Jolee's Kitchen: Pumpkin Baked Brie
Lena Freeman | Tue, Aug 15, 23

Need a fun and delicious recipe to add to your upcoming autumn gatherings? Try this Pumpkin Baked Brie! This recipe is one of my all-time seasonal favorites and is the perfect addition to your harvest table. Not to mention—it's super cute and easy to make.
Serve it fresh out of the oven along with your favorite crackers or a toasted baguette.
Cheers!
~Jolee

Pumpkin Butter Ingredients:
3 cups canned pumpkin purée
1 1/2 cups brown sugar
1/2 cup granulated sugar
1 tbsp lemon juice
1 tsp vanilla
1/2 tsp cinnamon
1/4 tsp allspice
1/8 tsp salt
Instructions:
In medium saucepan, mix pumpkin, brown sugar, granulated sugar, and lemon juice. Heat to simmering over medium-low heat, stirring occasionally to keep mixture from sticking to bottom of pan.
Simmer uncovered for 30 minutes, stirring often. Remove from heat; stir in vanilla, cinnamon, allspice, and salt. Cool completely. Pour into storage containers; cover tightly. Will last in fridge for 3-4 weeks.
Pumpkin Baked Brie Ingredients:
8 oz wheel of brie
1 Sheet Puff Pastry
1/2 cup pumpkin butter
1 egg with 1 Tbsp water for egg wash
Sage leaves and cheese straw (or pretzel) garnish.

Instructions:
Preheat oven to 375°F. Roll out pastry dough and remove corners to form circle.
Add about 1/2 cup of pumpkin butter to the center of the puff pastry circle about the size of your brie wheel. Place brie on top of pumpkin butter. Fold puff pastry edges over brie very tightly.
Gently wrap Baker's twine around brie wheel by gently sliding twine under brie wheel and tying a knot. Flip the brie over after you tie.
Place brie on parchment-lined baking sheet. Brush with egg wash and bake 375° for 30 to 35 minutes.
Remove strings. Garnish with sage leaves and cheese straw and serve with crackers or toasted baguette slices.