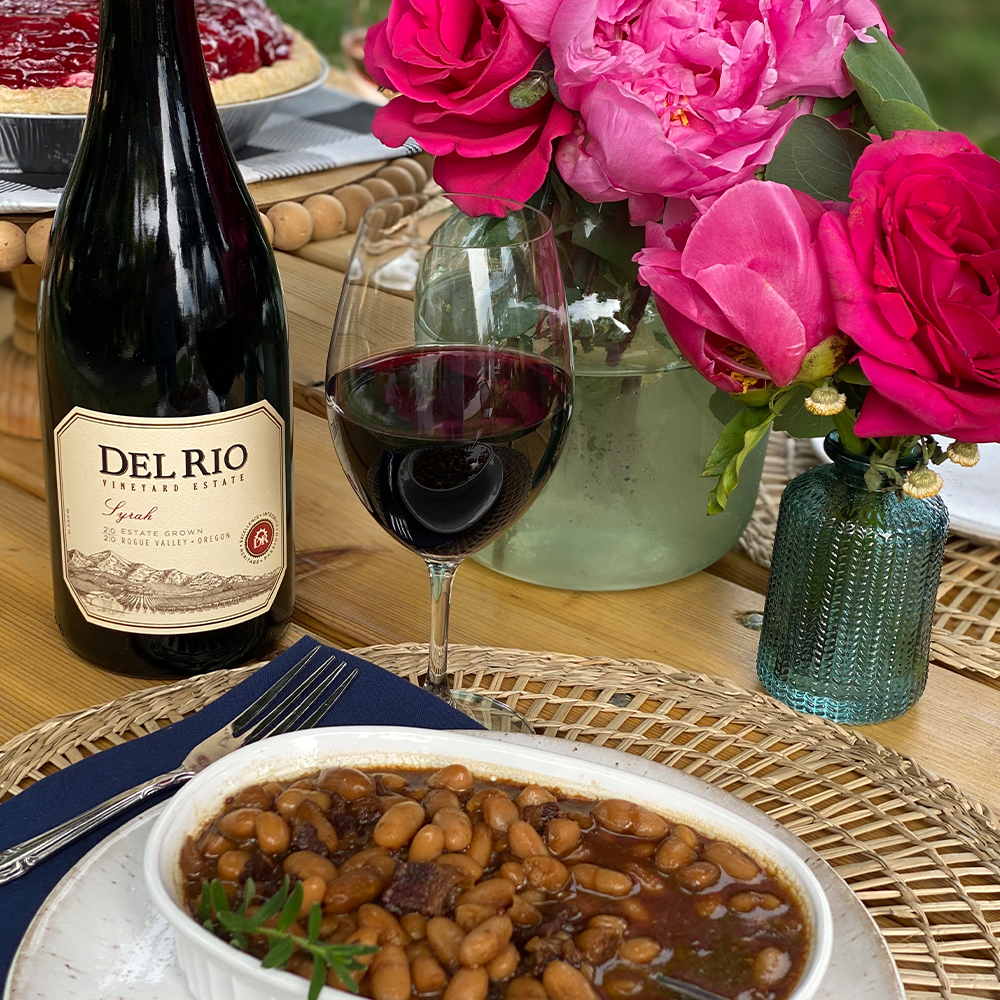 Jolee's Kitchen: Root Beer Baked Beans
Lena Freeman | Tue, Jun 20, 23
With the warm weather setting in, and the longer days ahead, summertime brings us lots of opportunities for gathering at backyard barbeques. And what goes better with your grilled main course than a side of sweet and savory baked beans? Try this recipe for Root Beer Baked Beans at your next cookout. It's the perfect addition to your hamburgers, hot dogs, kabobs, or anything else with that mesquite flavor. This dish pairs perfectly with bold red wines such as our 2020 Syrah or our 2020 Claret.
Total time – 4 ½ hrs.
Ingredients
6 slices bacon, cut into 1-inch pieces
1 large yellow onion, chopped
Kosher salt and freshly ground black pepper
1/3 cup molasses
2 Tbsp. whole-grain mustard
1 lb. dried navy beans, soaked overnight
1 (12-ounce) bottle root beer
1 can 10.5 ounces beef consume
¼ cup dark brown sugar
1/8 to ¼ tsp cayenne pepper– can omit
2 tsp. apple cider vinegar
Directions
Preheat oven to 300°F. Cook bacon in a large Dutch oven over medium heat, stirring occasionally, until mostly crisp, 5 to 7 minutes.
Add onion and season with salt and pepper. Cook, stirring occasionally, until onion begins to soften, 4 to 6 minutes. Stir in molasses and mustard.
Drain soaked beans and add to the pot, stirring to coat. Add root beer and bring to a simmer, stirring occasionally.
Add 3 to 4 cups water, consume, brown sugar, cayenne pepper and season with salt and pepper. Return to a simmer, stirring occasionally. Cover and transfer to the oven.
Bake until liquid is reduced by half, about 2 1/2 hours. Uncover and continue to bake until the cooking liquid is reduced, and a light crust has formed on the top, 1 1/2 to 2 hours. Stir in vinegar. Let cool slightly before serving.