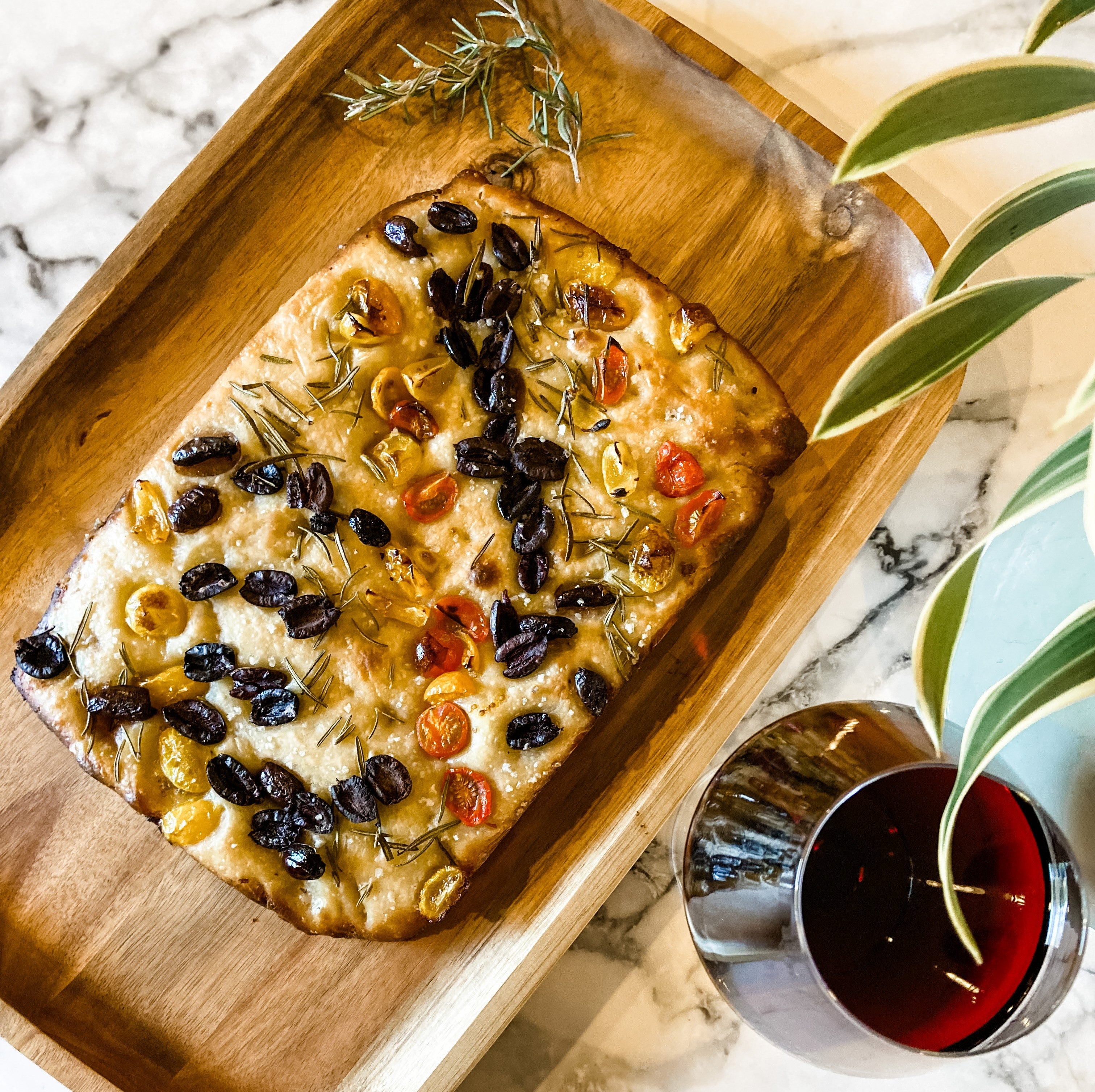 Jolee's Kitchen: Sourdough Focaccia
Jolee Wallace | Mon, Feb 28, 22
Jolee's Kitchen

Jolee's Kitchen is back! To kickoff another round of tasty dishes, today we're bringing you a homerun hit recipe: Sourdough Focaccia. This bread can be enjoyed by itself, dipped in oil and balsamic vinegar, or as an accompaniment to your main course. 

We have paired this crave worthy focaccia with our 2018 Anniversary Cabernet Sauvignon - a perfect pairing. Enjoy!   
We will all remember 2020 for something different. I will remember it for when I started baking sourdough with my own starter. I've been feeding that little jar of goo and keeping it in my fridge since April of 2020, always ready to bake my next loaf. There are so many things you can make besides bread, but this focaccia is one of the things that I use my starter for.
I first made this bread for a dinner I had with a few friends this year, and brought the extra to our Tasting Room for everyone to try. Courtney fell in love with it instantly and insisted that I make it for Jolee's Kitchen. So here it is!
This is not something you are going to make last minute. You actually need to start thinking about it the day before, that is the worst part. Besides that, it is super easy to make, just takes time. After you've made it and are ready to add your toppings, don't feel like you have to use the ones I have chosen. Make it your own! Use any herbs, vegetables, and bougie seasonings you like. I think this would be awesome to cut in half and make a sandwich with. I probably would use a pesto mayo, add chicken, cheese, a slice of tomato and lettuce. 
Share with us the different ways you topped it, I'm always looking for new ideas. 
Cheers, 
Jolee Wallace
DOUGH INGREDIENTS

100g Active Starter
440g Water
2 tbsp Olive Oil
2 tbsp Honey
10g Salt
530g Bread Flour

OTHER INGREDIENTS

3 tbsp Melted Butter
3 tbsp Olive Oil
Kalamata Olives
Small Pear Tomatoes
Fresh Rosemary
Kosher Salt
1. Mix the starter and water together, then add oil, honey, and salt. Mix to combine. Stir in the bread flour and cover. The dough will be very wet.
2. Let dough sit for 30 to 45 minutes and then stretch and fold the dough. Let sit for another 30 to 45 minutes and stretch and fold again 3 to 4 more times over a 3 hour period. 
3. Mix the butter and oil together and generously grease a 9 x 13 inch pan. Transfer the dough to the pan with the same stretch and fold pattern. Cover and place in the fridge overnight or for a few days.
4. Bring out and sit on the counter for a minimum of 5 hours- depending on how warm the room is. 
5. Preheat oven to 450 degrees. Generously spread olive oil on the dough and do a dock/dimple with wet oiled fingers. Dough should be really jiggly at this point. 
6. Cut tomatoes in half longways. Top with fresh rosemary, sliced tomatoes, Kalamata olives, and sprinkle with kosher salt. 
7. Bake at 425 degrees for 25 to 30 minutes.