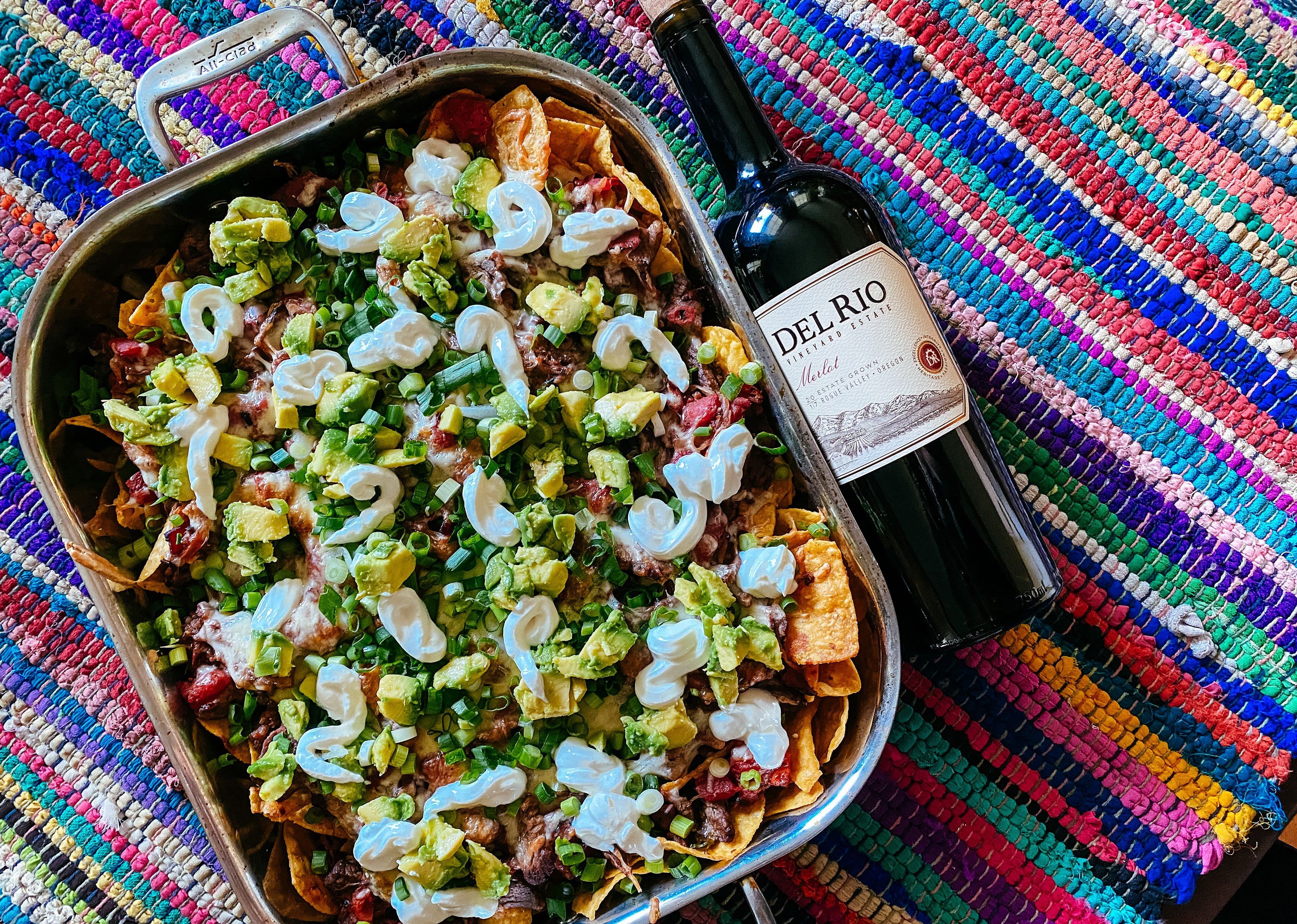 Jolee's Kitchen: Triple Meat Nachos
Jolee Wallace | Tue, May 04, 21
Jolee's Kitchen

This week we're bringing you a simple and delicious recipe from Jolee's Kitchen. We are celebrating the return of the football season with a meat lovers special and pairing it with our 2020 Merlot. 
_____________________________________________________________________

Triple Meat Nachos
The best thing about this recipe is that it is a crowd pleaser and can feed a crowd fast and full of flavor. Who doesn't love to celebrate with good food and a wine that you are sure to love.
Cheers!
- Jolee Wallace
 INGREDIENTS

2 (15-ounce) cans fire-roasted tomatoes
8 ounces bacon, thinly sliced
8 ounces fresh Mexican chorizo or Hot Italian sausage, casing removed, coarsely chopped
1 ½ pounds beef sirloin, excess fat removed, meat cut into 1/2-inch pieces
 Kosher or sea salt and black pepper
1 medium white onion, halved and slivered
1 to 2 jalapeños, halved, deseeded if desired, and sliced very thin
2 garlic cloves, finely chopped
1 to 1 ½ pounds  Tortilla Chips – Juanita's recommended
12 ounces shredded Mexican melty cheese, like Oaxaca, Asadero or quesadilla, or even Monterey Jack or mozzarella (about 3 cups)
1 ripe avocado, halved, pitted and finely chopped
Sour Cream
8 scallions, trimmed and thinly sliced
Heat a large (12-inch) skillet over medium-high. Add the bacon and cook, stirring occasionally, until it browns slightly and renders some of its fat, 3 to 4 minutes.
Add the chorizo or sausage to the bacon, and cook, breaking the sausage into smaller pieces using a wooden spoon as it begins to brown and crisp, 3 to 4 minutes.
Add the beef, season with salt and pepper and cook, stirring a couple times, until it begins to brown, about 4 minutes. Incorporate the onion and jalapeño and cook until they begin to wilt, 2 to 3 minutes. Add the garlic and stir until fragrant but not browned, less than 1 minute.
Stir in the canned chopped tomatoes with their juices and cook over high, stirring occasionally, until saucy, 2 to 3 minutes. Season to taste with salt.
Set the rack in the middle of the oven and heat to 400 degrees. Place all the tortilla chips in a half sheet pan or large baking sheet in an even layer. Cover the chips with the meat mixture and all of its chunky salsa. Cover with the shredded cheese. Bake until cheese has completely melted, 8 to 10 minutes.
Garnish with the avocado, scallions & dollops of sour cream. Dig in while hot!