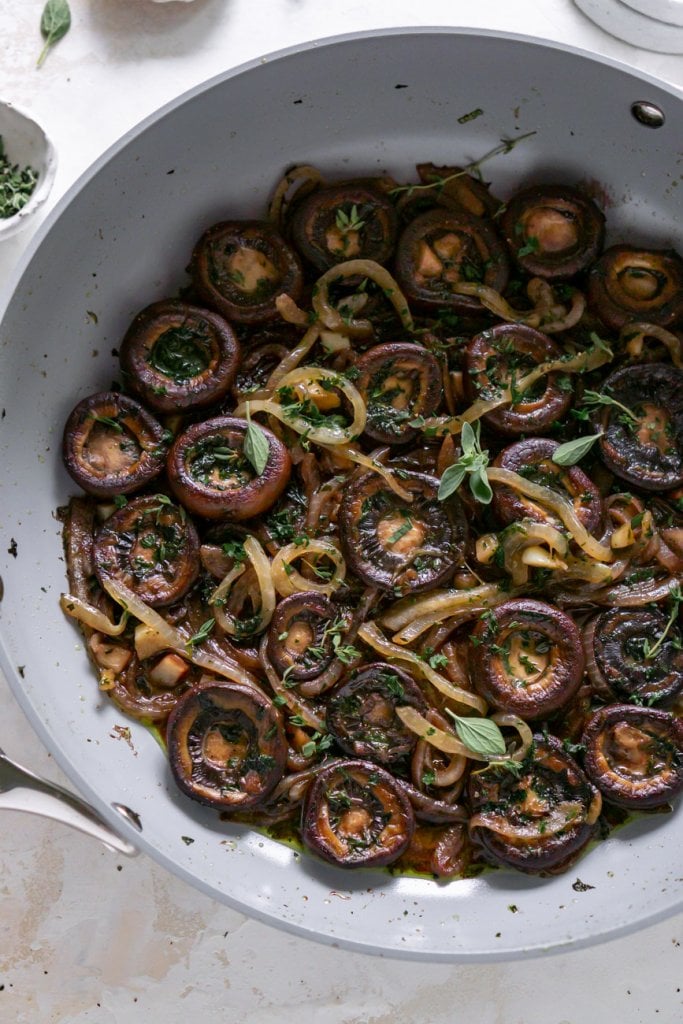 Lena Freeman | Fri, Feb 10, 23
This dish pairs perfectly with our 2021 Pommard Pinot Noir. 
Ingredients
16 ounces cremini mushrooms, stems removed
1 tablespoon olive oil
5 tablespoons unsalted butter
1 white onion, very thinly sliced
2-3 garlic cloves, chopped
¼ cup dry red wine
½ tablespoon balsamic vinegar
2 tablespoons fresh thyme leaves
1 tablespoon fresh oregano leaves, chopped
2 tablespoons fresh parsley, chopped
Salt and pepper, to taste
Instructions
Heat a large non-stick pan with 1 tbsp of olive oil and 3 tbsps of butter over medium heat.
Place the mushrooms in the pan, stem side down and cook 12-15 minutes, until mushrooms have softened and release their juices.
Flip the mushrooms and add the onion, garlic, and 2 tbsps butter. Cook 8-10 minutes, stirring occasionally, until onions start to brown. Add the wine, balsamic vinegar, and half the herbs. Season with salt and pepper, reduce the heat to medium-low, and simmer for 10-15 minutes.
Garnish the mushrooms with the remaining herbs and serve.