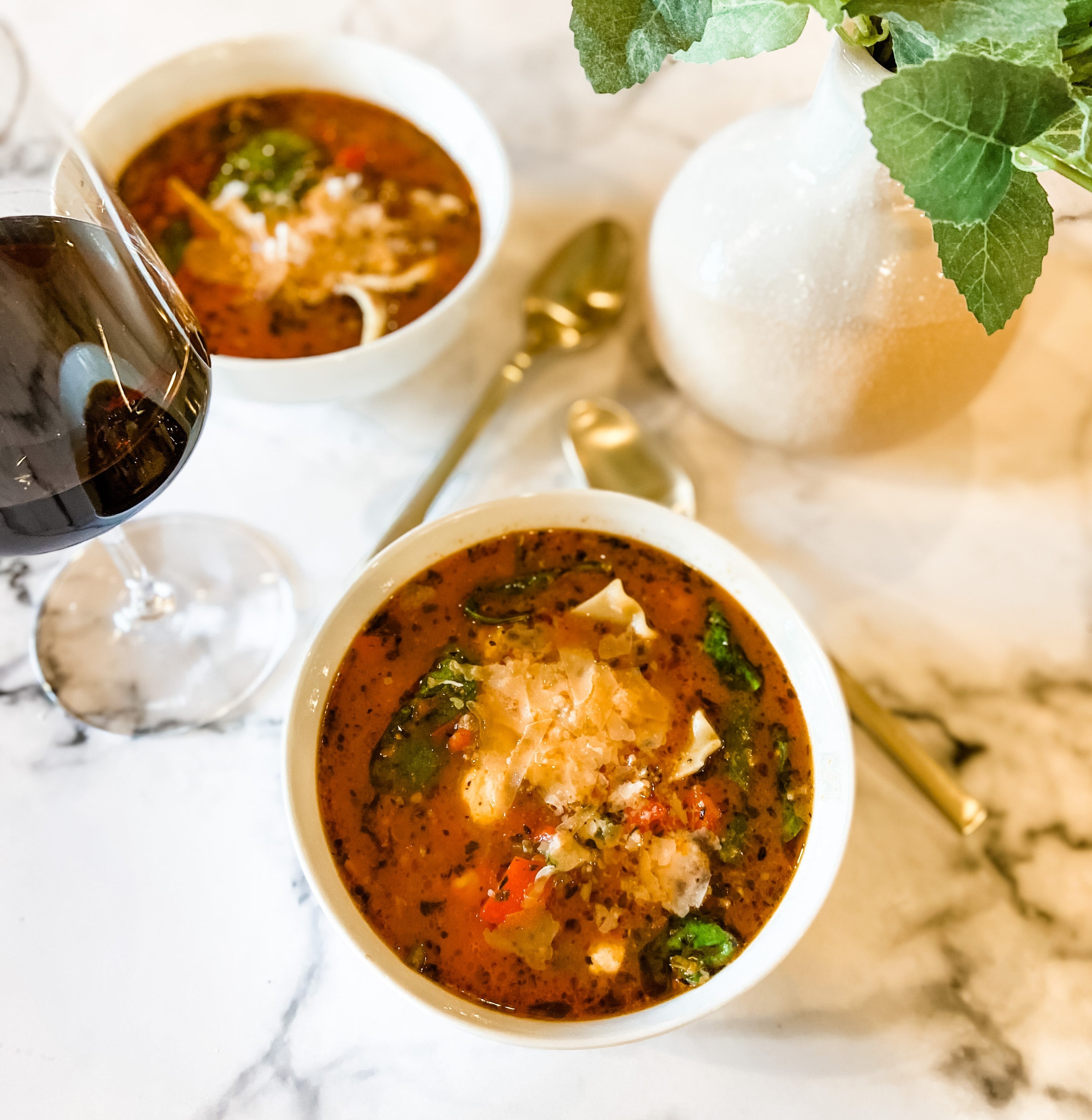 Jolee's Kitchen: Zesty Lasagna Soup
Jolee Wallace | Mon, Feb 28, 22
Jolee's Kitchen

This week in Jolee's Kitchen we have a recipe to keep in your back pocket for a rainy spring day. Paired with Malbec, this Zesty Lasagna Soup is the perfect comfort food- with a little kick. Enjoy! 
I like making things that are quick and easy, but most of all, foolproof. This Zesty Lasagna Soup is one of those things that anyone can make. If you are not a fan of "zesty", you can tone it down to your own spice level. If you like it a bit hotter, just add some more chili flakes. Make this recipe your own!
Autumn is one of those seasons in Southern Oregon that you don't know exactly what the weather is going to look like. One day it is beautiful and the next day it is wet and raining (let's bring on the wet and rainy days! We need them after the scorching summer we've had this year). This soup is a perfect way to warm you up on those rainy spring days. To make this meal even better, I would serve it with my Sourdough Focaccia. You will have a winning combination!
Cheers & Happy Cooking - 
Jolee
INGREDIENTS

2 tbsp Extra Virgin Olive Oil
1 Yellow Onion, chopped
1/2 cup Celery, chopped
6 Cloves Garlic, chopped
3/4 pound Ground Beef
3/4 pound Spicy Italian Sausage
1 tbsp Dried Basil
1 tbsp Dried Oregano
2 tsp Dried Thyme
1/2 tsp Red Pepper Flakes
1/2 cup Tomato Paste
1/2 cup Dry White Wine
4-5 cup Chicken Broth
1 can Crushed Tomatoes (28oz)
1/2 cup Canned Coconut Milk
1 cup Fresh Mozzarella, cut into small pieces 
1/2 cup grated parmesan
8 lasagna noodles, broken into pieces
2-3 cups Fresh Spinach 
1. Heat the olive oil in a large dutch oven over high heat. Add the onion, celery, and red pepper, and cook until the veggies are softened, about 5 minutes. Stir in the garlic and cook 1 minute.
2. Add the ground beef and sausage, and season with salt and pepper. Cook until browned all over, breaking up the meat as it cooks, about 10 minutes.
3. Add the tomato paste, basil, oregano, thyme, and chili flakes and cook 5 minutes, then pour in the wine. Add the crushed tomatoes and broth. Season with salt and pepper and cook for about 10 minutes until thickened slightly.
4. Stir in the coconut milk and cook until warmed through.
5. Meanwhile, boil the noodles until al dente. Drain and add back to the pot along with the cheeses.
6. Ladle the soup into bowls and serve topped with parmesan.