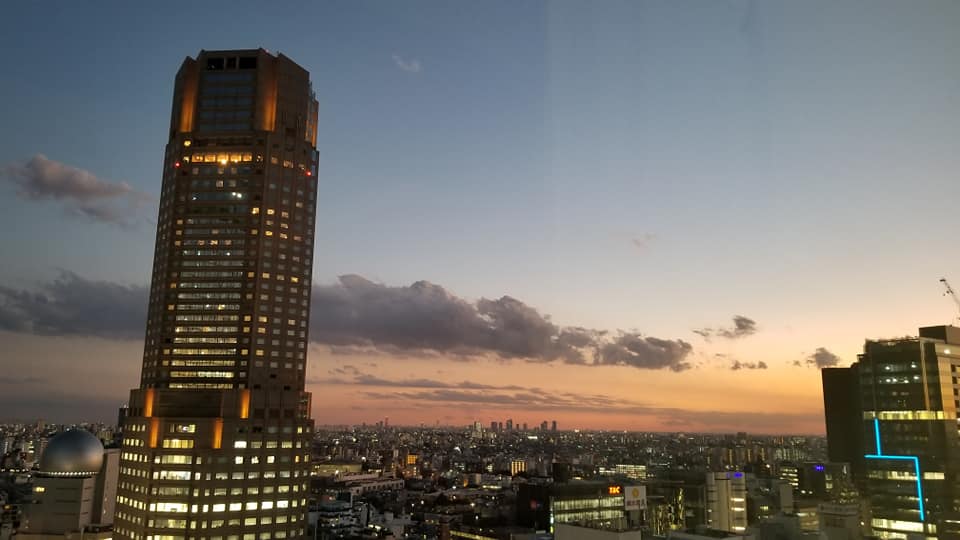 Lost in Translation . . . Del Rio goes to Tokyo!
Lindsey Zagar | Mon, Nov 16, 20
Recently, our Regional Sales Manager, Derek Bangs, went to Japan for a vacation of skiing on the island of Hokkaido and exploring Tokyo. Since Del Rio Vineyards has an importer based in Tokyo, he reached out to them to schedule a couple days of work with them while he was there. Here's the story of those days, from his perspective.
---
After several days of visiting Tokyo's famous shrines, temples, and parks I was ready to work with Del Rio Vineyard's importer. Our importer is a wine importer and distributor based in Tokyo. It is a subsidiary of a larger, older company which has a fabric and paper manufacturing and distribution company in Beaverton, Oregon. They have a growing portfolio of small, family-owned wineries in Oregon, Washington, and California.
DAY 1: WEDNESDAY, FEB 6
 had breakfast at the Mark Excel Hotel Tokyu in the famous Shibuya district. During breakfast I prepared myself for doing business with Japanese-speaking wine buyers. I watched the "Shibuya Scramble" – an intersection famous for being one of busiest in the world.  One can see hundreds of people scramble across the crosswalks at each turn of the stoplights. Prior to my trip to Japan I had lunch with a Portland-based sake expert, who gave me some great advice. I opened up my notes from that meeting, which included the proper etiquette for meeting and thanking our customers (always bow lower than them), exchanging business cards (always with 2 hands and a bow), physical and eye contact, and pouring wine.
Our importer had hired a translator whom is also a certified Sommelier. She was the first to arrive at the hotel. She then introduced me to their Sales Manager, Tetsuya Kaneko. The three of us set off to meet and thank our top customers: department stores and a gift catalog company! In Japan, department stores sell wine, food, and gifts in addition to clothing. They are all set up the same way. The bottom floor (usually a basement) had a large selection of wine, spirits, groceries, bento boxes, and gift foods. The top floors are often a restaurant, while the rest of the floors showcase the international big-name brands of clothing for men and women.
Sogo Department Stores
Our biggest customer in Tokyo are the Sogo department stores, and they're owned by 7 & i Holdings – the owners of the prestigious (yes, seriously) 7-11 stores and many department stores in Japan. The department stores have a gift catalog and our Del Rio Vineyard Estate Pinot Noir, Cabernet Sauvignon, and Chardonnay are offered exclusively in Japan through these catalogs. The department stores are having success selling our four Rock Point wines and of course the Jolee Rose. I got to meet and thank the wine buyer for the catalog and the wine stewards at three of their department stores. Gift giving is a very important custom in Japan, so I brought for each of them gifts from our tasting room.
We used the Tokyo train/subway system to get to each department store.  Almost all are  located very close to the train stations since the vast majority of Tokyo residents use public transportation. By now I had figured out how to navigate through their stations and trains, so I was able to get back to my hotel easily. That night I enjoyed a fantastic meal accompanied at an izakaya in Shibuya, 35 Steps Bistro (it's 35 steps down from the street level, in the basement of an apartment and retail building. Oddly, I spent much of this day in the basement levels of Tokyo!
DAY 2: THURSDAY, FEB 7
I attended and poured at a wine trade-only tasting – mostly for restaurant managers/owners, wine buyers, Sommeliers, wine writers and educators. This event was at an event center with its own beautiful garden and Buddhist shrine. Our importer had a table at the trade show. They poured our four Rock Point wines and Jolee Rose. I helped to pour our wines with the assistance again of their translator. That afternoon I led a 40-minute seminar – with their translator helping of course – to 25-30 people, on Del Rio Vineyards and Southern Oregon terroir.
Fish House Oyster Bar
We went out for dinner at Fish House Oyster Bar.  It is owned by one of the judges of the Oyster Wine Award competition, Chef/Owner Toshihiru Matsushita. He and his peers had tasted hundreds of white wines in a blind tasting with oysters to find which wines were the best to pair with the delicious bivalves. Our Rock Point Pinot Gris won the Oyster Wine Award this year! Toshihiru-san speaks English fluently and is an accomplished, well-known chef. The food at his restaurant was fantastic. It paired wonderfully with our Rock Point Pinot Gris and Rock Point River White. I exchanged gifts with my hosts (our importers) and the translator before retiring to my hotel room for the night.
The next day I bought some gifts for my wife and nieces at the department store near my hotel. I visited the impressive Nezu Museum, ate delicious tempura and okonomiyaki (a type of omelet pancake), and flew back home.
Japan is a beautiful country, with some of the most polite and respectful people I have ever met. Tokyo has modern, high-density architecture mixed with peaceful, ancient parks and temples. The city is very clean and there are thousands of great places to eat, drink, and shop. I highly recommend visiting, and when you do you should visit the Sogo Department store and purchase some gifts; some Rock Point wine for your Japanese friends and hosts. Don't forget some items made in Japan for your friends and family back here.
Kanpai!
Derek Bangs
Regional Sales Manager, Del Rio Vineyards