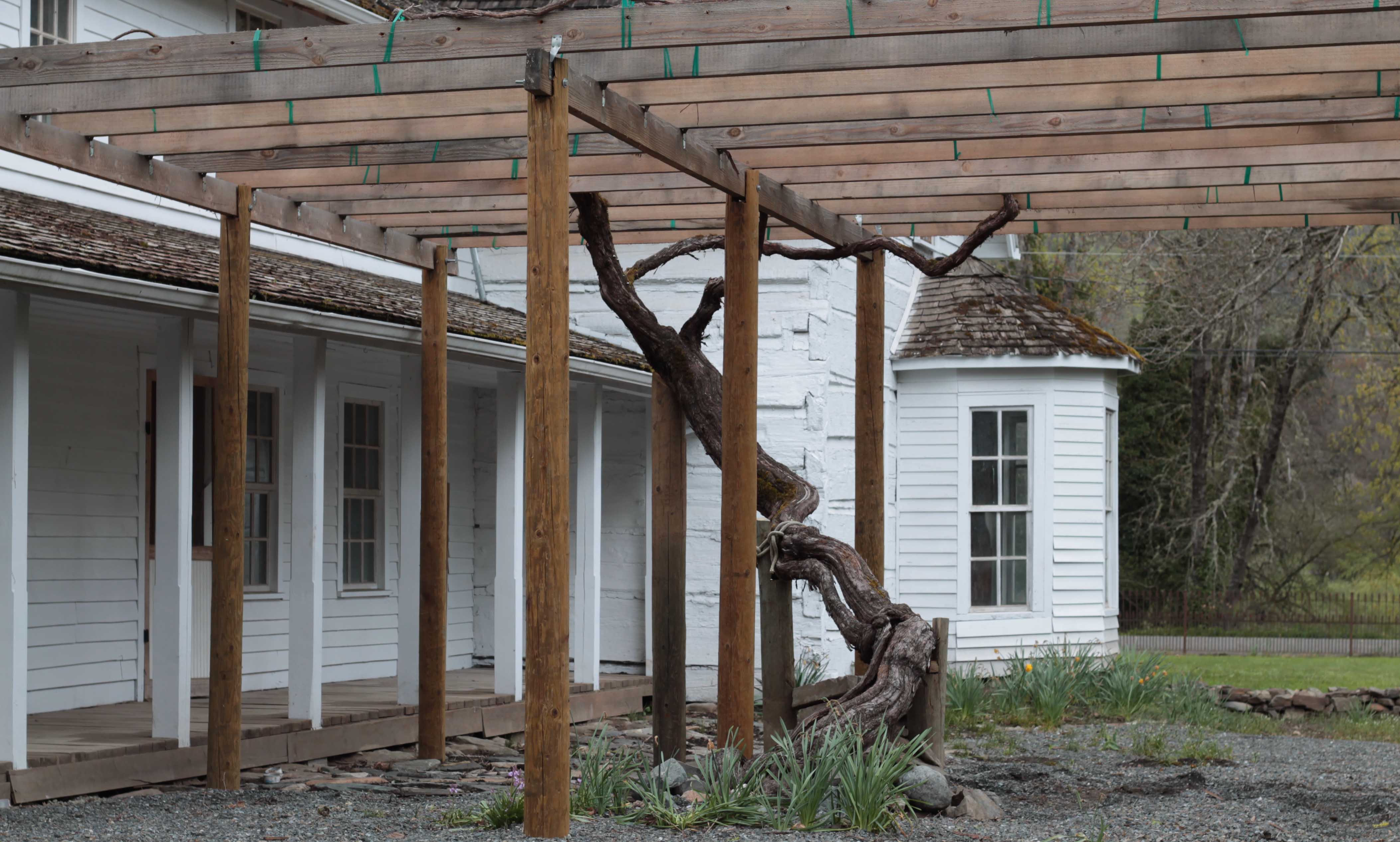 Old Vine at Birdseye Ranch –
Lindsey Zagar | Mon, Nov 16, 20
Birdseye old vine
Rich in history, our Birdseye ranch has one of the last remaining dwellings left from the pioneers.  It is located on a bend along the Rogue River between the cities of Gold Hill and Rogue River.  The Birdseye house, just over 162 years old, was home to David and Clara Birdseye.  David Nelson Birdseye was the first Birdseye to settle here in the Rogue Valley.  He and his uncle Charles Birdseye opened a trading post in the mining camp that became Jacksonville, Oregon.  His wife, Clara, (Clarissa Stein Fleming) was from a prominent colonial Virginian family.  She and her family traveled by wagon to Oregon in 1852, when she was a teenager.
The Birdseye house was built of hand-hewn logs harvested from a grove of pine trees along Birdseye Creek.  Through the years, Clara continued to make improvements on the house and grounds.  One of the first acts was to set out plants she brought from Virginia.  Even today you can see contributions she made to the Birdseye Ranch.  She constructed the flat-stone path leading from Highway 99 to the front porch and planted many shrubs and roses that are still there.  The most famous plant she planted on the property is the grapevine out behind the house.
In about 1860, Clara went to Jacksonville riding her horse Prince.  When she was ready to make her way back home, Prince was not so eager.  Granville Sears, who operated a winery in Jacksonville, observed Mrs. Birdseye having problems with her horse.  He handed her a switch that he had cut from one of his Blue Mission grapevines.  With switch in hand, Prince and Clara made it back to the ranch with no problems.  The following day she stuck that grape cutting in the ground and that vine is still growing and producing grapes more than 158 years later.  In January 2017, the original trellis was destroyed when a tree fell on it.  The grapevine is now trellised on a brand new sturdy arbor.
In 2016, we harvested some of the Blue Mission grapes from the Birdseye ranch and made into a rosé.  It was as a fun small project of nine bottles to be shared with guests at our Dinner Under the Stars in August, 2017.  Doing a bit of research, I learned that Mission grapes are very hardy and drought-resistant vines.   They can grow to tremendous lengths and can live for over 100 years. The grapes look similar to concord grapes in shape and color, but are smaller in size. Mission grapes have very little acidity and are very sweet with floral aromas. The Blue Mission originally came from Spain.   Mission grapes had been used for making sacramental wine by the missionaries.  Bizarrely, Mission's thick skins do not translate to a darkly  colored wine, as you would expect. It's so light and translucent that you might mistake it for rosé. Yet, the wine is intensely bitter, from tannins, with a pithy orange-peel flavor and an oily, viscous texture.  Not making the best quality wine, and when immigrants to America began arriving with Cabernet and Merlot grape varieties, it wasn't long before the Mission grape was overshadowed by the better wine-making varietals.
The Birdseye mission grape, once the only vine on the farm and cattle ranch, is now accompanied by 160 acres of delicious Pinot noir.   This fall will be our first harvest.  We are thrilled to connect the old with the new and looking forward to what the future holds.
Much of the family history and where I found most of my information is from "Clarissa – Her Family and Her Home" authored by Nita Birdseye.  If you are interested in reading it in its entirety there are copies at different branches of the Jackson County Library.
Thank you Wes Nieto for the picture of the Birdseye house – taken April 2018